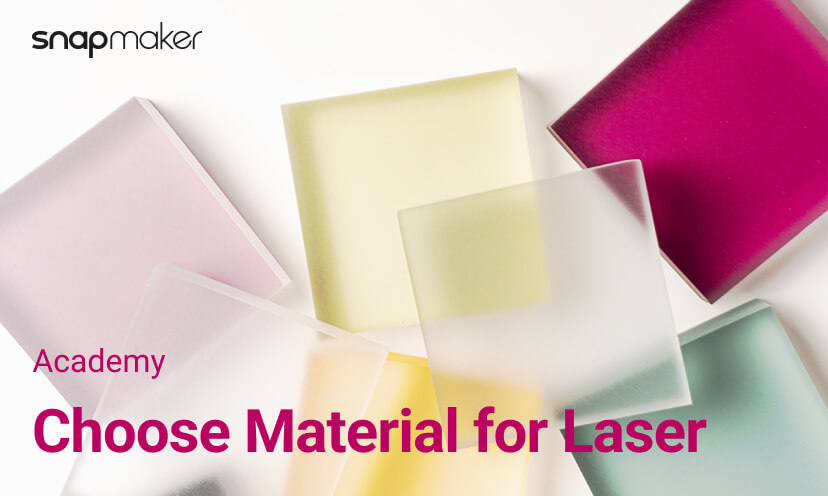 Hello, Maker!
After purchasing a laser engraving and cutting machine, you must be eager to dive into material processing. There are so many kinds of material you can use, including the most ordinary wood, paper, cloth, and leather. Adding a little design, you can recreate famous paintings on wood, cut flowers out of paper, or even produce fashion with a piece of cotton cloth.
However, you cannot grab a piece of material from somewhere and begin laser engraving or cutting right away. There are still important issues you need to care about and methods you can follow in material selection.
This article will provide you an overview of commonly used materials for laser engraving and cutting, and instruct you on how to choose a proper material for laser processing.
Commonly Used Materials for Laser Processing
1. Wood
Wood is an organic material comprised of cellulose and lignin. When interacting with laser energy, partial combustion occurs inside wood. The primary factors affecting the laser processing results are the density, the uniformity of density, and the resin content of wood.
Most people prefer to use wood with a low density, for it requires only a small amount of laser power, and the processing can be fast. The resin content of wood determines whether the wood burns are darker or lighter. If you engrave resinous wood with laser, for example, the same amount of laser energy can produce a darker color, resulting in higher contrast. But you should also be careful not to burn the wood too much or catch fire.
The wood types that are commonly used for laser processing are as follows:
Basswood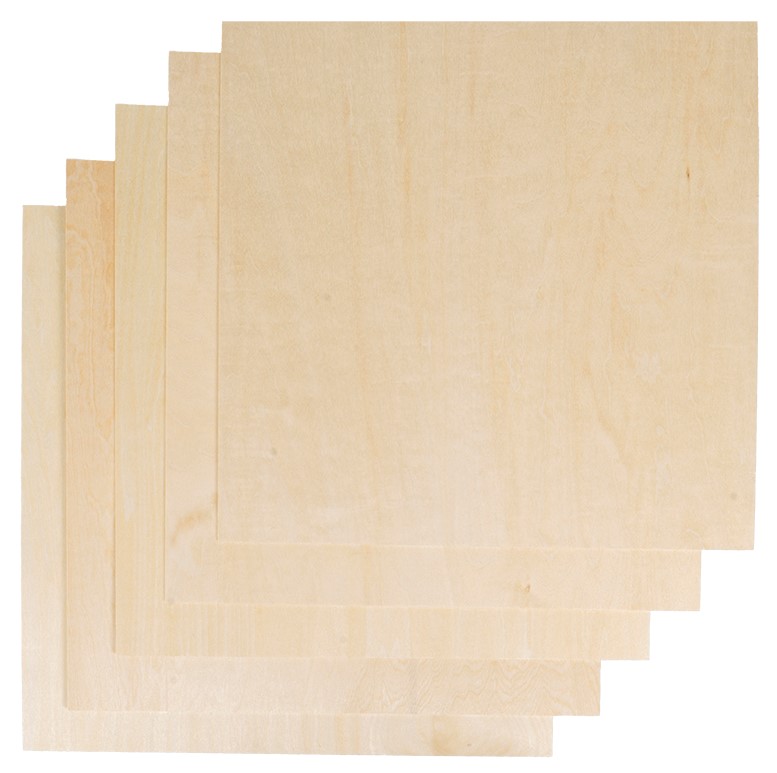 Basswood is a softwood with even texture and fine grain, so laser engraving and cutting stand out on this type of wood. Besides, basswood features a color of creamy white or pale brown, which makes it easy to paint, stain and finish after being laser processed. And it has a relatively high resin content, and therefore only low laser power is needed to engrave or cut a basswood. However, a thin basswood is prone to get distorted under the influence of moisture. To compensate for this drawback, thin basswood is usually processed to become plywood which tends not to warp or crack.
Alder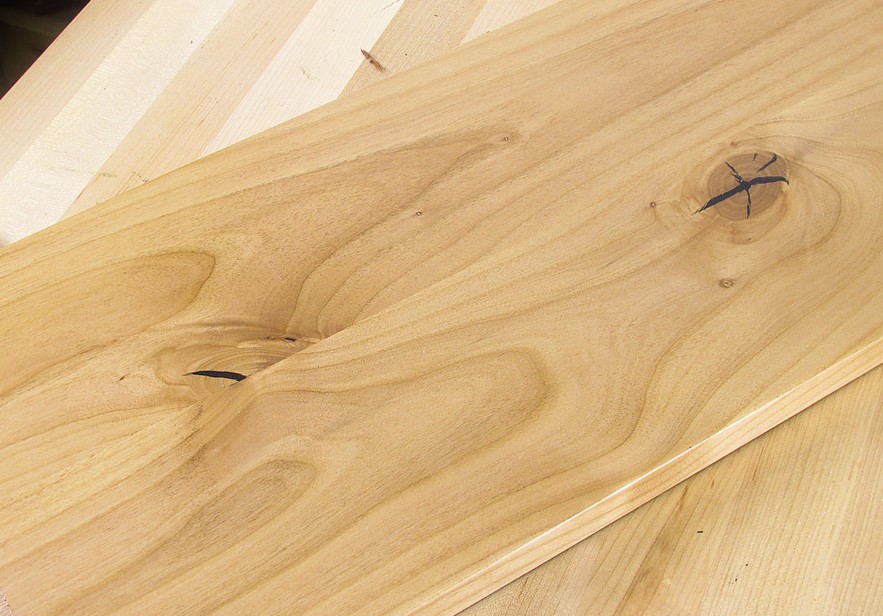 As a soft and resinous wood, alder works great for laser cutting and engraving and produces a nice dark burn. The pale and inconspicuous color of alder allows for high-contrast engraved images, while its light grain doesn't take away the details of the patterns. The only drawback of alder is the possibility of the presence of knots, which may compromise the quality of the finished work.
Cherry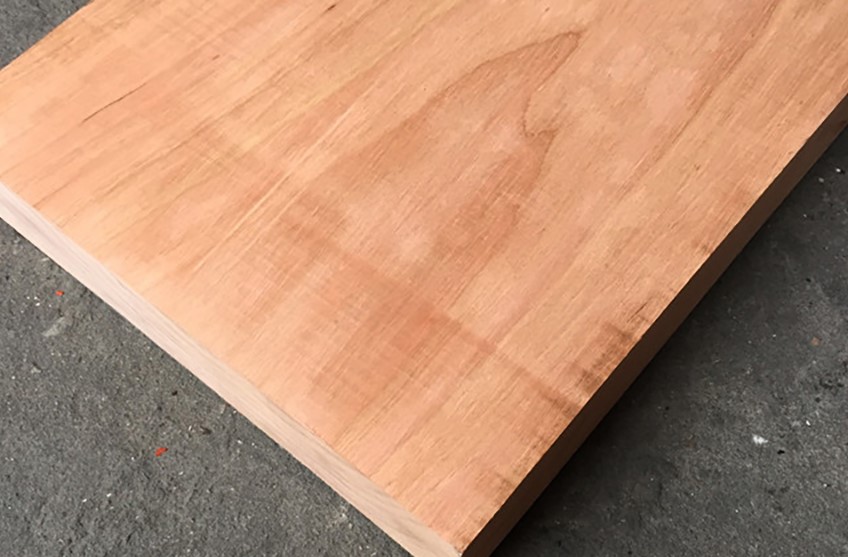 Cherry has long been a popular wood for cabinet and furniture making in the United States. The wood of the cherry tree is considered a hardwood. The cherry wood comes with a light pink to dark brown color, straight grains, and a shiny texture. Products made from cherry wood are durable for use and nice-looking in appearance. Moreover, cherry is a flexible and smooth wood, making it an ideal choice for laser cutting and engraving.
Plywood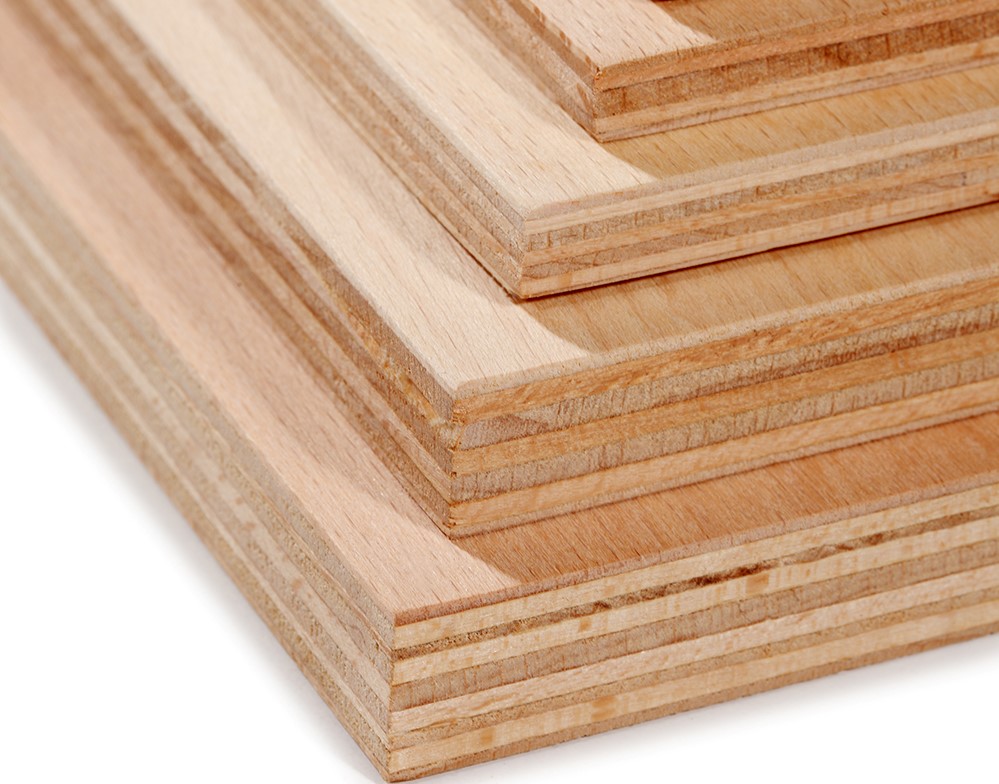 Plywood is manufactured from multiple layers of thin wood veneer, which are bonded together with adhesive at high temperature to make composite sheet material. As a composite wood, plywood has a clean and light surface and does not easily deform when there are changes to atmospheric moisture levels. These properties make it an easy material for laser engraving and cutting.
But fire or excessive smoke may occur during laser cutting due to the fact that plywood contains glue. Depending on the specific wood and glue used, the performance of plywood varies during laser processing. It is recommended to choose a plywood that is explicitly marketed for laser use. Birch plywood is a good choice as the most popular plywood for laser engraving and cutting.
Medium-density Fiberboard (MDF)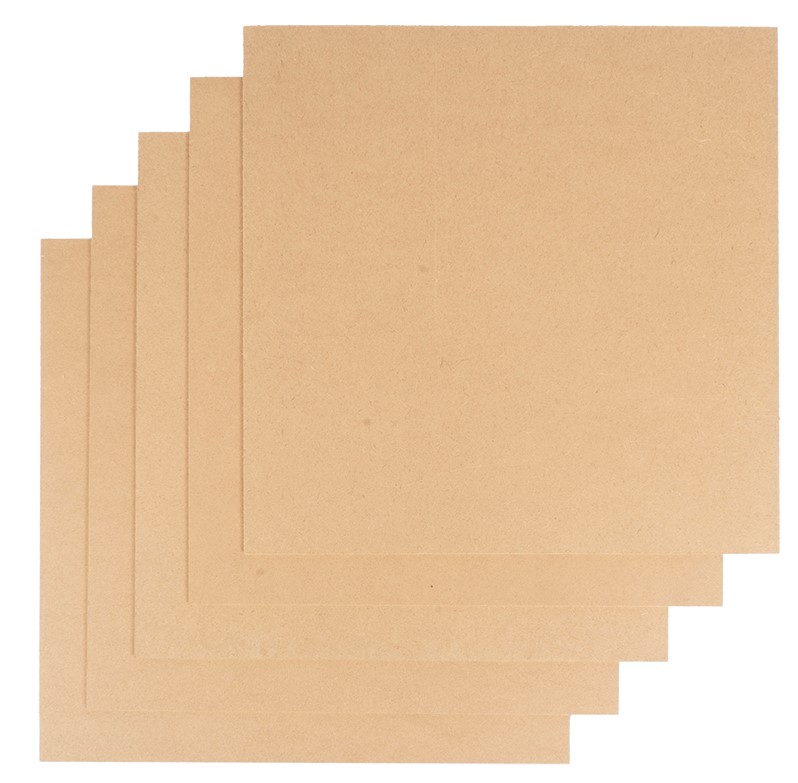 Medium-density fiberboard (commonly referred to as MDF) is an engineered wood made by combining wood fibers with resin binders and then forming them into panels by applying high temperature and pressure. Mostly, MDF has a higher density than plywood. MDF can produce nice laser engraving results due to its smooth and firm surface. However, MDF does not suit laser cutting, for its glue content can result in charring or even toxic gases and fumes.
2. Plastic
Commonly used plastics can be mainly categorized into two types: thermosets and thermoplastics. The two types of plastics have distinct reactions with laser energy.
For thermosets, their polymer chains have more connections and break down easily when heated. Thus, thermosetting plastics cannot be successfully melted without damaging the molecular structure and the material changing color. Laser engraving on thermosets can produce clear and high-contrast images. But to laser cut thermosets is not easy as this kind of plastic irreversibly hardens after its chemical structure changes.
For thermoplastics, their polymer chains are simpler and have fewer bonding connections. Thus, thermoplastics can be melted easily without the polymer chains breaking down. When a high-energy laser beam impinges on a thermoplastic, the plastic melts down, accomplishing the cutting or engraving process. But since the melting process does not lead to color change, laser engraving on thermoplastics has inapparent effects.
There is a wide range of plastics and quite a few of them can be laser processed, such as acrylic, POM, EVA, PA, PC, PE, and silicone. But it should be noticed that every plastic more or less releases toxic gases, so it is vital to work in a well-ventilated space, install a filter system, and put on protective equipment.
Acrylic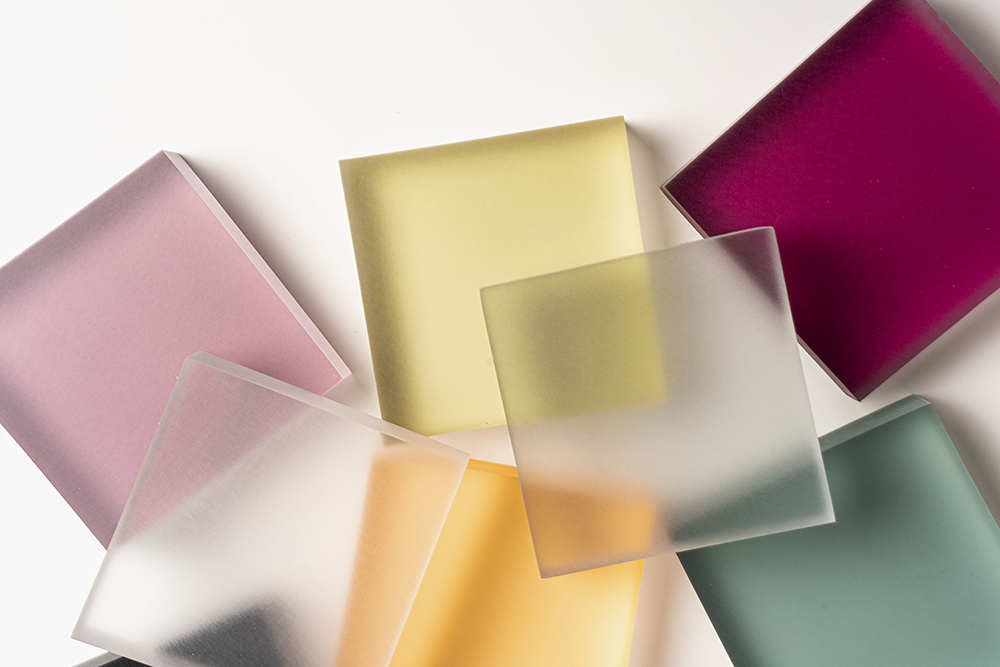 Acrylic (PMMA), also known as plexiglass, is a thermoplastic used as one of the most common materials for laser cutting. Acrylic cuts nicely and safely, plus its rich color options, therefore becoming the best plastic for laser cutting. There are two types of acrylics manufactured through different methods: extruded acrylics and cast acrylics. Extruded acrylic cuts smoothly with a clean and flame-polished edge. Cast acrylic produces a frosty white color under laser processing, allowing for breathtaking laser engraving patterns.
Delrin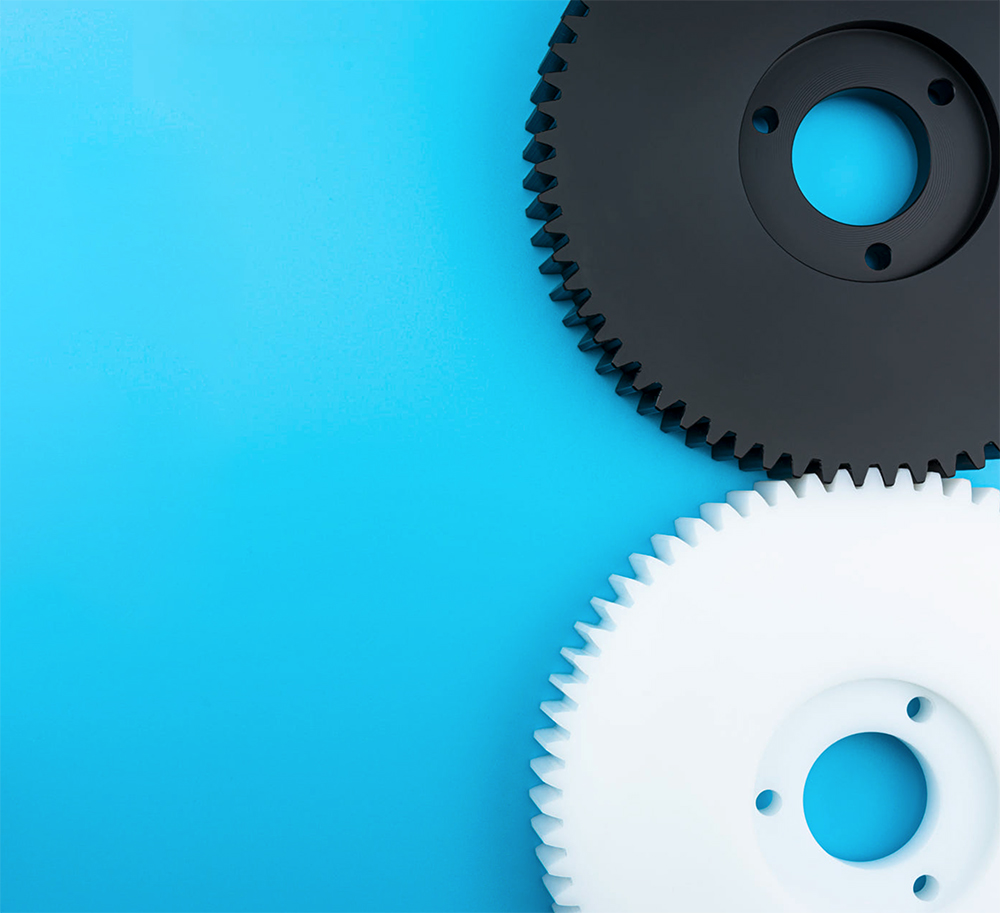 Delrin, also known as Polyoxymethylene (POM), is a thermoplastic that excels in durability, stiffness, and dimensional stability. These exceptional features make it one of the most common materials for manufacturing wear-resistant products like gears and bearings. Besides being rigid, Delrin is also more ductile than acrylic and wood, therefore promising more accurate laser cuts. The cutting edge is so smooth that it requires no further finishing. That said, laser cutting Delrin will release pungent fumes and easily catch fire if the laser power is high.
EVA Foam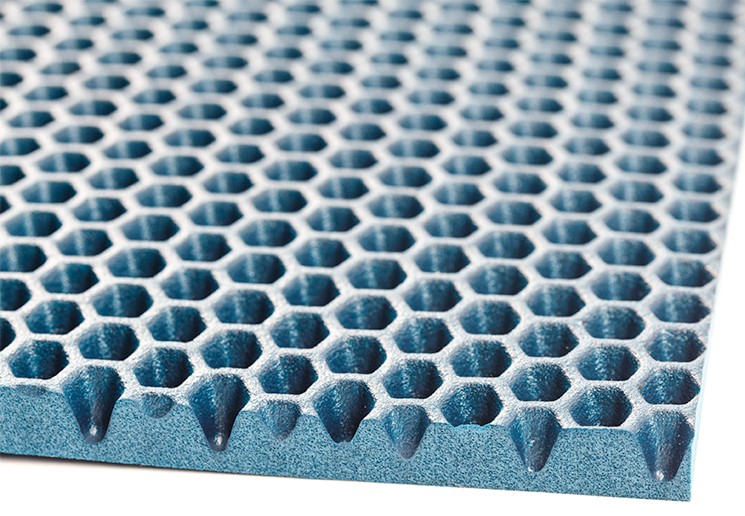 EVA (ethylene vinyl acetate) is a copolymer of ethylene and vinyl acetate. This kind of thermoplastics is an extremely elastic material with low-temperature toughness, stress-crack, and UV radiation resistance. EVA foam has a closed-cell structure and retains excellent flexibility and resilience. When you cut an EVA foam with a laser, the cutting kerf will be wide due to the heat melting process, and the color of the cutting edge will be slightly changed into light brown. However, if you laser engrave an EVA foam, the material surface will become tacky and finally get a darkened color.
3. Fabric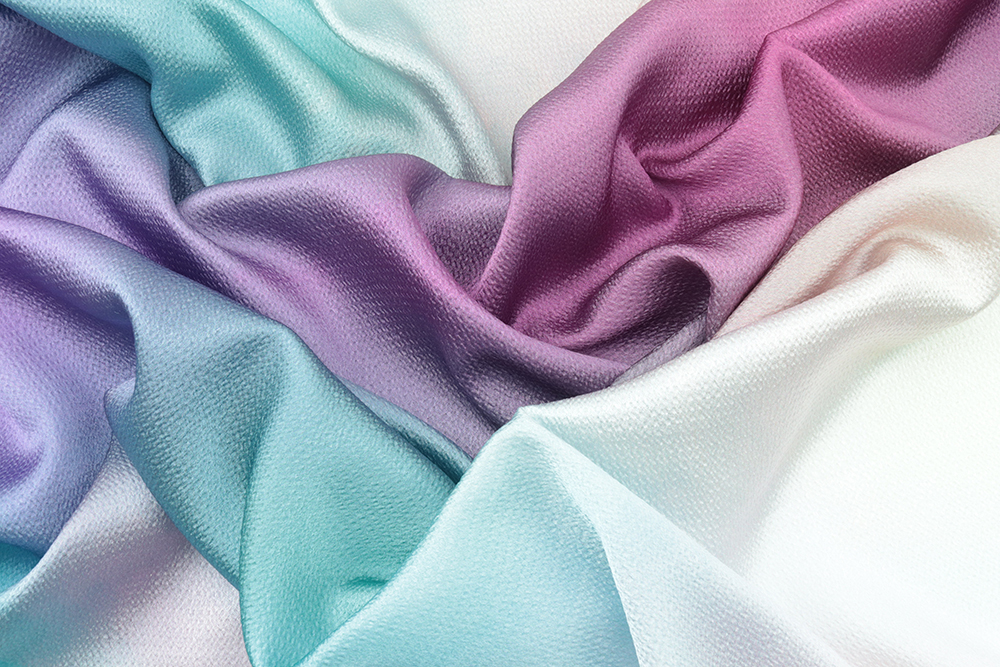 Most types of fabric are suitable for laser cutting, while some fabrics, such as felt and fleece, can be processed by laser engraving as well. Commonly used fabrics for laser processing include cotton, linen, nylon, silk, and wool products.
It requires only a small amount of energy for laser to engrave on or cut fabrics. The precise machine control process allows for multilayer and intricate designs, producing detailed and elegant clothes that enjoy great popularity in the fashion industry. But the most conspicuous advantage of laser interaction with fabrics is contactless processing. Laser cuts are accomplished without any pressure on the fabric, therefore ensuring no rough edges or fraying. Moreover, the high-energy laser beam can create clean and sealed edges after cutting. All these characteristics guarantee the superiority of laser technology in the fabric processing industry.
Although most fabrics can be cut well by laser, use caution when you cut materials that may be plastic coated, impregnated with plastic, or that are made from PVC. These materials are likely to catch fire or release gases that can damage your lungs and your machine.
4. Paper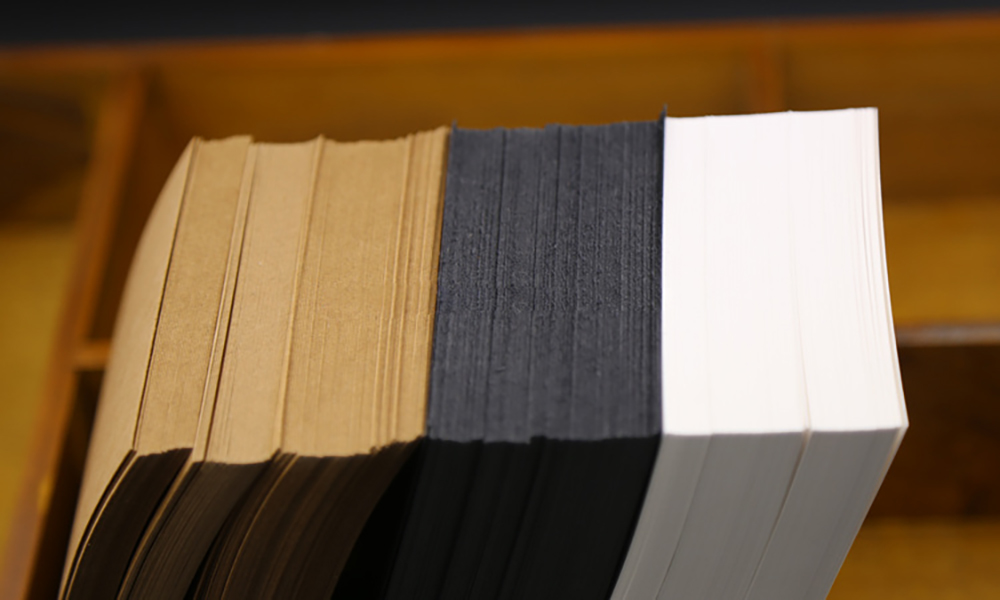 Paper types are diversified and can be categorized based on multiple different standards. Nonetheless, the most commonly used paper types for laser processing are writing paper, paperboard, and corrugated paper. As paper is usually thin and light in weight, laser engraving on paper may not work well, but laser cutting is most suitable for this kind of material, for it is efficient and energy-saving. That's why large numbers of businesses are using laser cutters to create bespoke paper products such as wedding invitations.
5. Leather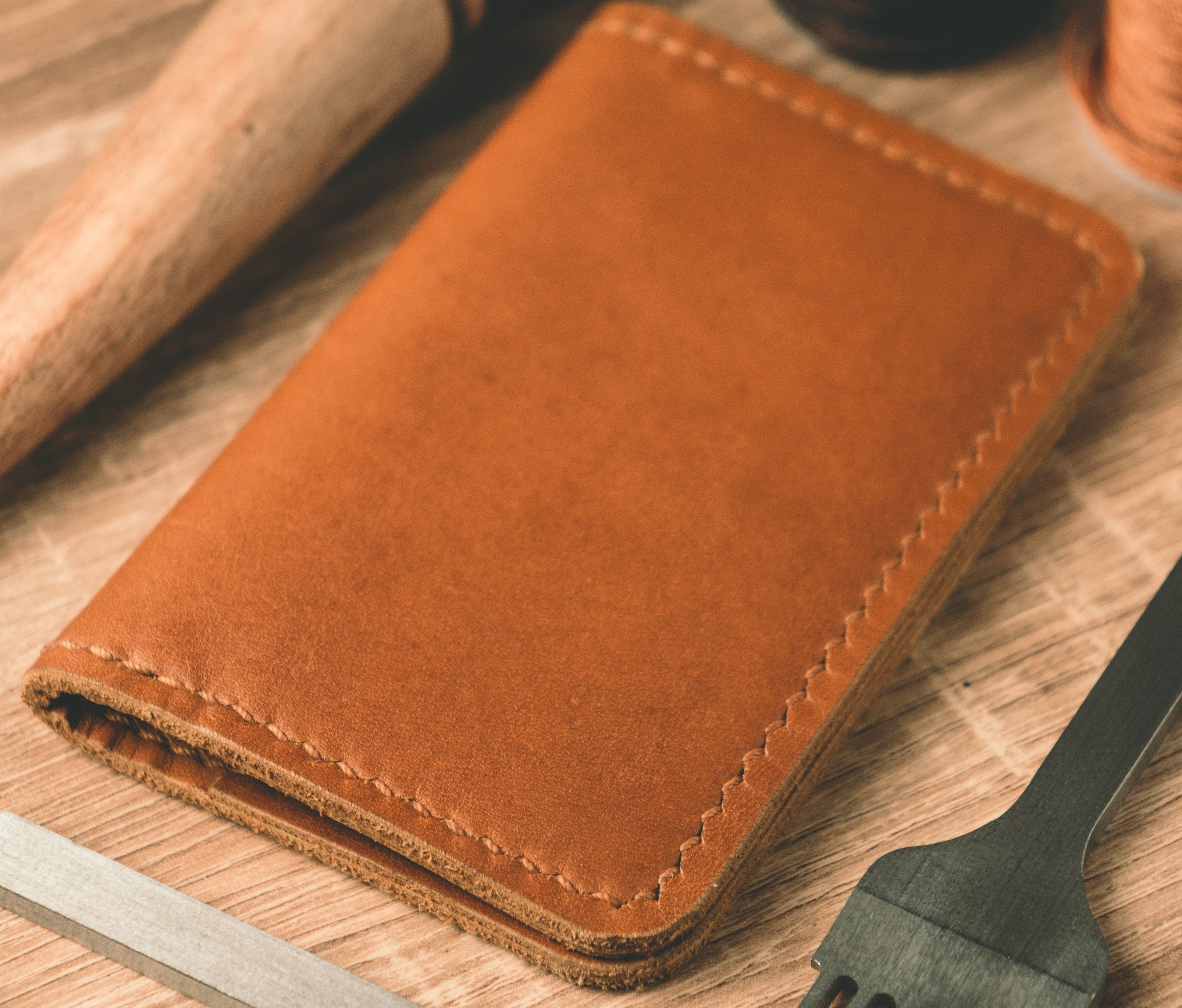 Traditionally, leather products are handmade or assisted by electric tools. But because leather is such a strong and durable material that leather processing can be time-consuming and inefficient, coming with fewer pattern choices. The emerging of laser processing helps to address those problems.
When a highly contrasted laser beam hits on the surface of leather, it quickly vaporizes or burns the leather. Laser engraving leather results in a debossed effect and a noticeable and clean contrast. Cutting leather with laser is incredibly fast and precise, making intricate designs easy to produce.
Most natural leathers can be safely engraved or cut with a laser machine. However, you need to be careful not to use artificial leather. Artificial leathers are typically made from PVC, which can release poisonous gases when being heated, damaging your machine and your health.
Principles for Material Selection
A laser engraving and cutting machine is so versatile that material selection becomes complicated and full of possibilities. After you know about the general features of commonly used materials, you may still be confused when faced with practical laser processing. Are there any universal principles that can guide you through the evaluation of every material? There certainly are! In this section, we will further describe the following two principles you must follow in choosing a proper material for laser work:
Put safety first
Consider machine capability
1. Material Safety
To laser engrave on or cut a material, the first thing you need to care about is safety. Essentially, laser burns, melts, or vaporizes materials to achieve the desired effects. Being exposed to high-energy laser beams, the physical and chemical properties of materials are subject to change. It is possible to produce sticky liquid, flame, or poisonous fumes and gases if an inappropriate material is used, and consequently damaging your machine, harming your health, or polluting the environment. To avoid dangerous situations, always research on the properties of the material you want to use and learn about its possible reactions under the influence of laser, or more specifically, high temperature.
Materials You Should Never Use for Laser Engraving or Cutting
Polyvinyl chloride (PVC)
Acrylonitrile Butadiene Styrene (ABS)
Epoxy
High-density polyethylene (HDPE)
Polystyrene foam and polypropylene foam
Flame-retardant materials
PVC: Releases chlorine gas that is highly corrosive. Chlorine gas will cause serious physical injury to humans and damage to the machine.
ABS: Melts when heated, creating a gooey mess. Emits toxic cyanide gas.
Epoxy: Prone to catch fire and produce toxic fumes.
HDPE: Melts and catches fire easily.
Polystyrene foam and polypropylene foam: Melts and catches fire easily.
Flame-retardant materials: Typically contains bromine, which is corrosive. Skin tissues will be damaged if they get in contact with bromine.
There are so many more dangerous materials and possible harm that we cannot list them all. To protect the machine as well as your own safety, you should get familiarized with the material properties and pay attention to the usage notes of each material.
2. Machine Capability
After you determine that a material is safe to be laser engraved and cut, the next aspect you need to evaluate is the capability of your machine. Is your laser machine capable of engraving or cutting the material you choose? To answer this question, you must factor in the two elements: laser wavelength and laser power.
Material Absorption of Laser Wavelength
A lasing medium, also called gain medium, describes the material used to generate laser emission (stimulated emission). Each lasing medium produces laser beams at a very specific wavelength with a particular power level. The shorter the wavelength of light, the higher will be the energy it contains.
Laser machines can be categorized based on the lasing media they use, and lasing media determine the wavelength of the laser.

Although light with a shorter wavelength comes with higher energy, it does not mean the shorter the wavelength, the better the laser performance. Every material has a characteristic absorption spectrum. For example, silver fir absorbs light at a wavelength of around 1000 nm better than light with wavelengths ranging from 800 to 900 nm, as shown by the following pictures.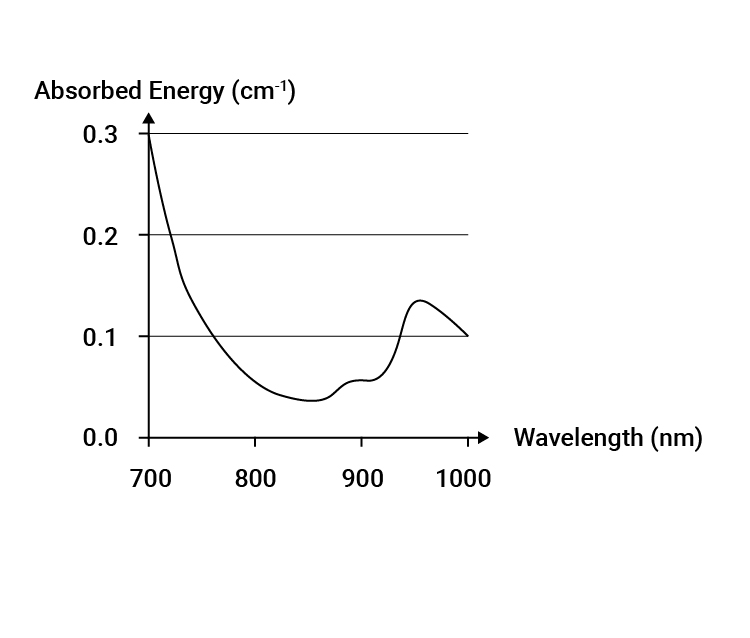 Therefore, you do not necessarily need a laser machine that emits light of the shortest wavelength to accomplish the best laser processing effect. To choose a laser engraving and cutting machine, you need to take into consideration lots of elements such as the machine size, application, and price. Different types of laser machines have their own strengths and weaknesses. As long as you choose the right materials that suit your machine, you can create astonishing works. Back to our discussion on laser wavelength, every type of laser machine emits laser beams of a specific wavelength, while each material has a different absorption rate on different wavelengths of light. Therefore, based on the laser wavelength your machine produces, choose materials that have a good absorption rate on the laser light so as to ensure higher quality and faster processing results.
The following table provides a reference on how to choose materials based on laser wavelength.
Machine types

Commonly used materials for laser processing

CO₂ laser engraving and cutting machine

(10.6 μm)

Paper, wood, fabric, plastic, leather, rubber

Semiconductor laser engraving and cutting machine/Laser diode

(400–1064 nm)

Paper, wood, fabric, plastic, leather, rubber

Fiber laser engraving and cutting machine

(1030–2100 nm)

Stainless steel, carbon steel, galvanized steel, copper, aluminum

Green laser

(532 nm)

Green laser is typically used to make laser pointers that do not have engraving or cutting function

UV laser engraving and cutting machine

(355 nm)

Paper, wood, fabric, plastic, leather, rubber, ceramic, glass, metal

(UV light has a high absorption rate on nearly every material.)
Laser Power and the Density and Thickness of Materials
Laser power is measured in Watts. The more watts, the more powerful the laser is. A laser engraving and cutting machine with higher laser power has wider applications. This is because the laser power of a machine is adjustable. A higher maximum power allows for a wider adjusting range, therefore resulting in more diverse applications. Normally, laser machines sold to individual consumers have a laser power of up to 120 Watt. Machines with higher laser power are mostly used in industrial manufacturing.
Laser power is one of the most important factors that determine what kind of materials you can use. The required energy and necessary wattage vary depending on the material being engraved or cut in relation to that material's density. A material with a higher density will need a more powerful laser for engraving and cutting.
In particular, for laser cutting, material thickness also depends on laser power. More laser power can produce deeper cuts. Without sufficient laser power, a laser machine cannot cut through very thick materials. As shown in the following picture, a thick material requires multiple cuts. Each time the laser head starts the next cutting pass, the laser height automatically lowers for a certain distance so as to ensure the focal point always falls on the destination surface. However, the laser head cannot go down without limit since it will eventually collide with the material surface. Moreover, as you cut deep into a material, the cone-shape laser beam will be partially blocked by the materials on the two sides of the cutting kerf. When the laser goes through the narrow kerf and finally reaches the destination, it becomes weak and less powerful until the material eventually fails to be penetrated.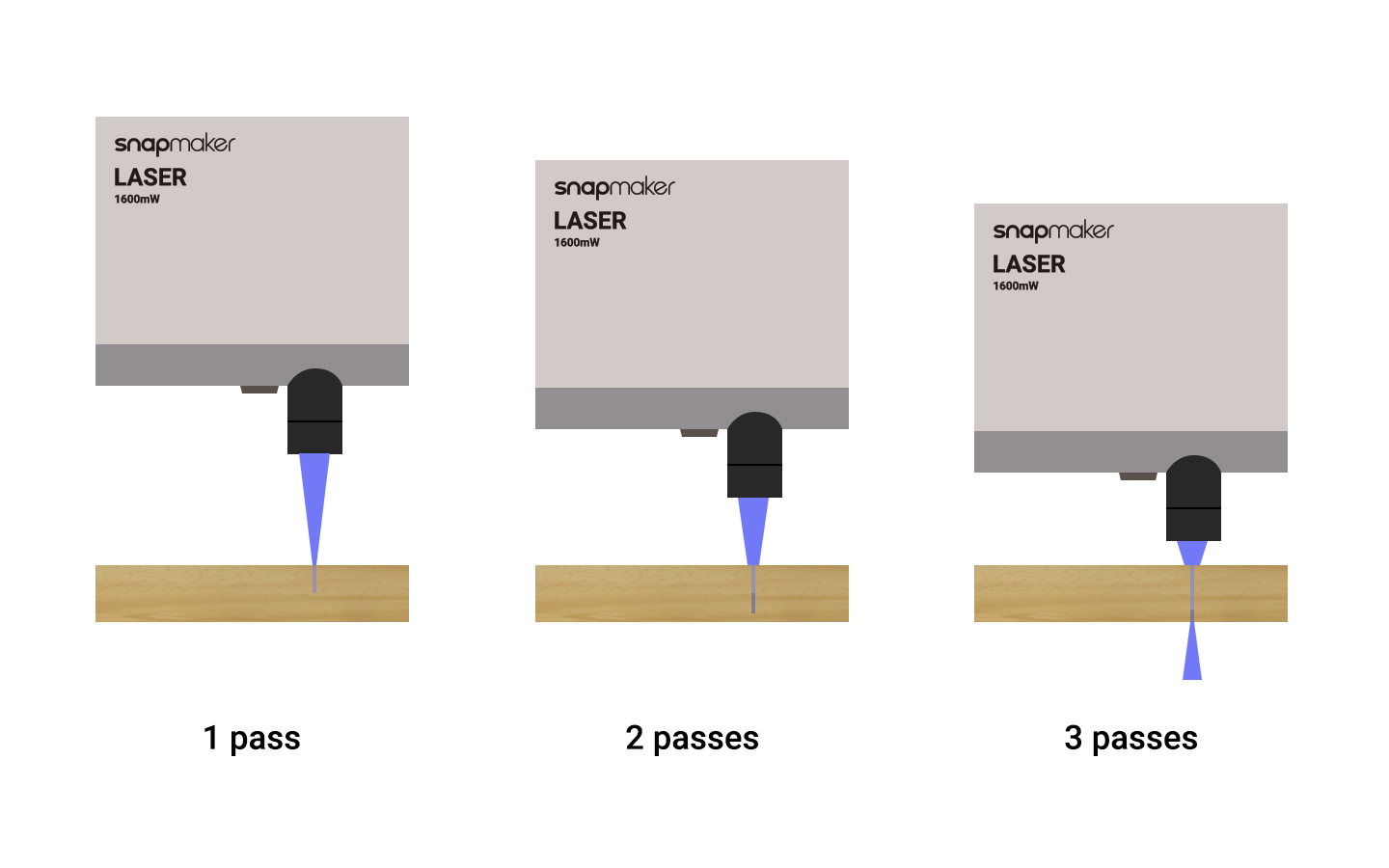 The following table provides information on the minimum laser power required to process some commonly used materials.