Hi all. Earlier this year we've posted two video tutorials of Snapmaker 2.0 Enclosure on our YouTube channel, where one of our users "Juan Salinas" asked us how much quieter will this enclosure make the machine. So, our team have made a series of tests on the sound-reduction quality of our A350 enclosure. And here's the test results we promised.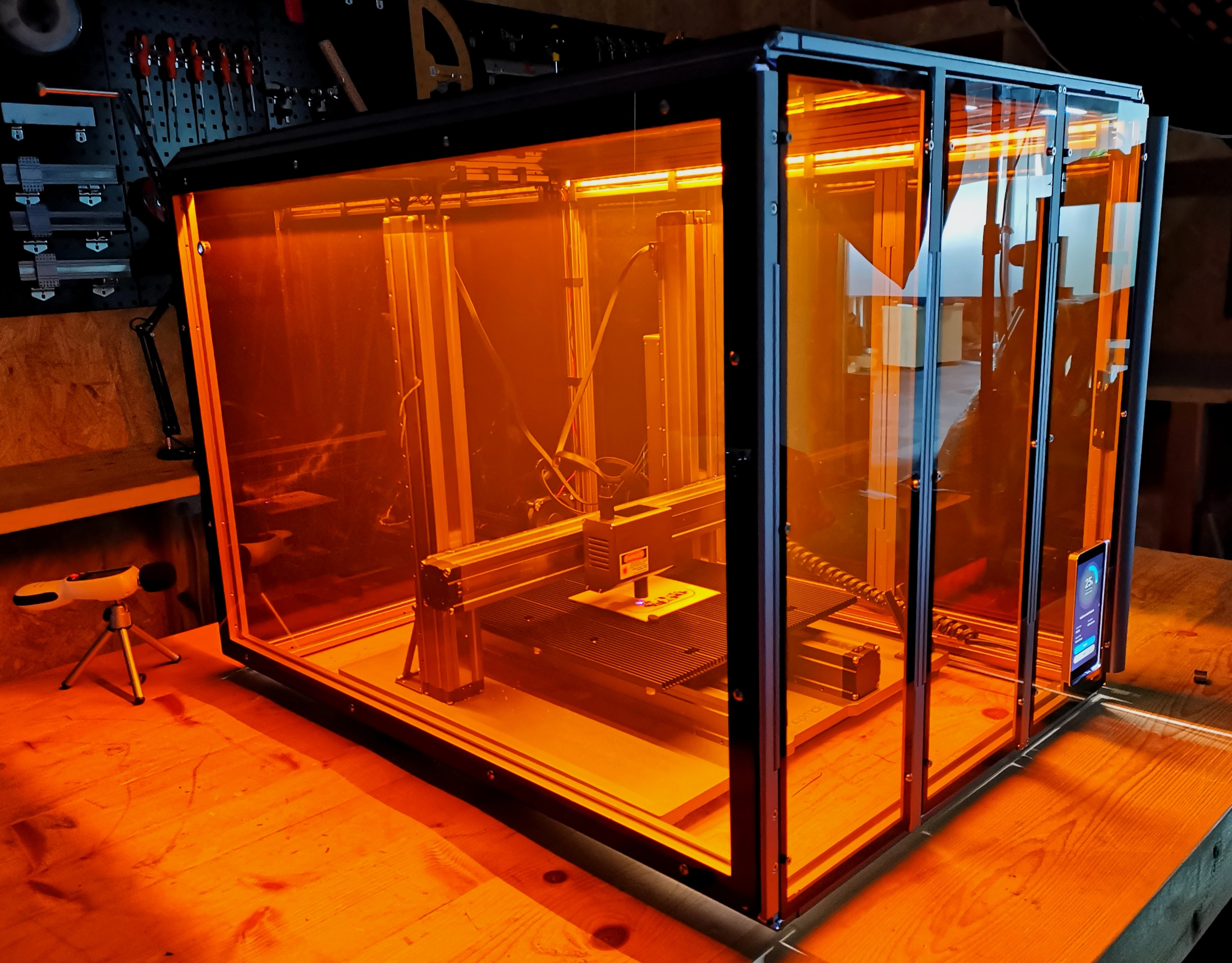 Testing Sound Level in a Laser Engraving Session
We tested the average and maximum sound levels from three different distances, comparing situations with and without the enclosure.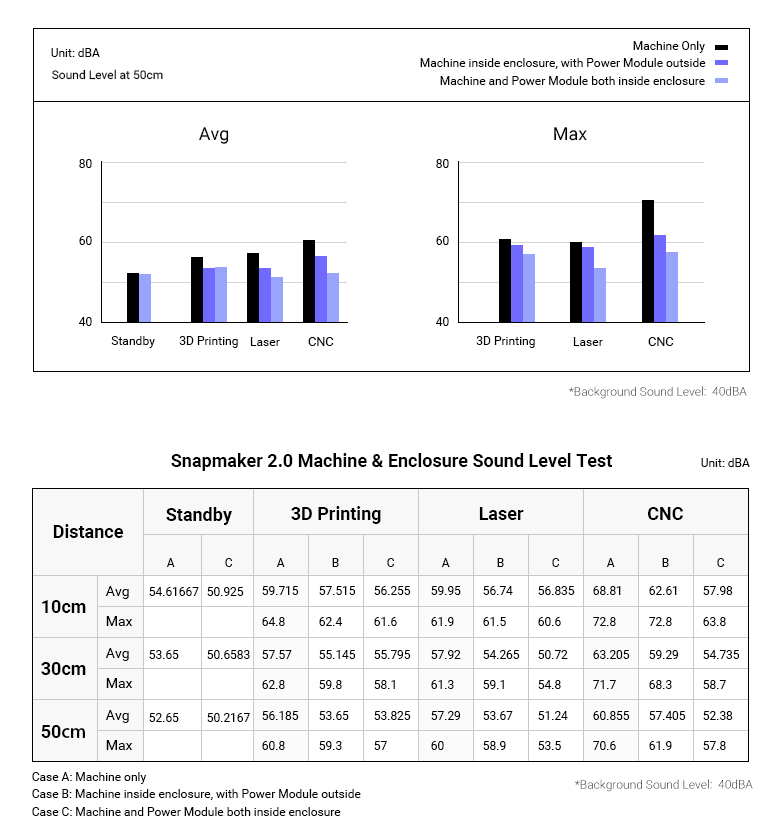 As you can see, the bare machine produced noise between 52 dBA and 55 dBA when on standby mode, whereas the noise level rose to between 56 dBA–60 dBA on 3D printing mode, 57 dBA–60 dBA on laser engraving mode, and 60 dBA–69 dBA on CNC carving mode. As a reference, 50 dBA sounds like refrigerator humming, normal conversation is about 60 dBA, and 70 dBA feels like you're inside a car at 60 mph (or 96 km/h).
When the machine was enclosed with its Power Module on the outside, the sound could be 2 dBA–4 dBA lower during 3D printing and laser engraving. It's not a big drop obviously, but now the machine was almost as quiet as on standby. CNC carving was much louder, but in turn the enclosure had a better performance by reducing the sound by 3 dBA–6 dBA.
Since the Power Module contributes most of the noise when the machine is enclosed, we've also made a pair of simple pothooks to hang the Power Module inside the enclosure, and repeated the testing process on standby, 3D printing, laser and CNC. The most affected terms in this part include the maximum sound levels of 3D printing, laser and CNC, as well as the average sound level of CNC. In general, we can further reduce and stabilize the noise by hanging the Power Module inside the enclosure.
How We Tested:
Test device: handheld sound level meter & tripod.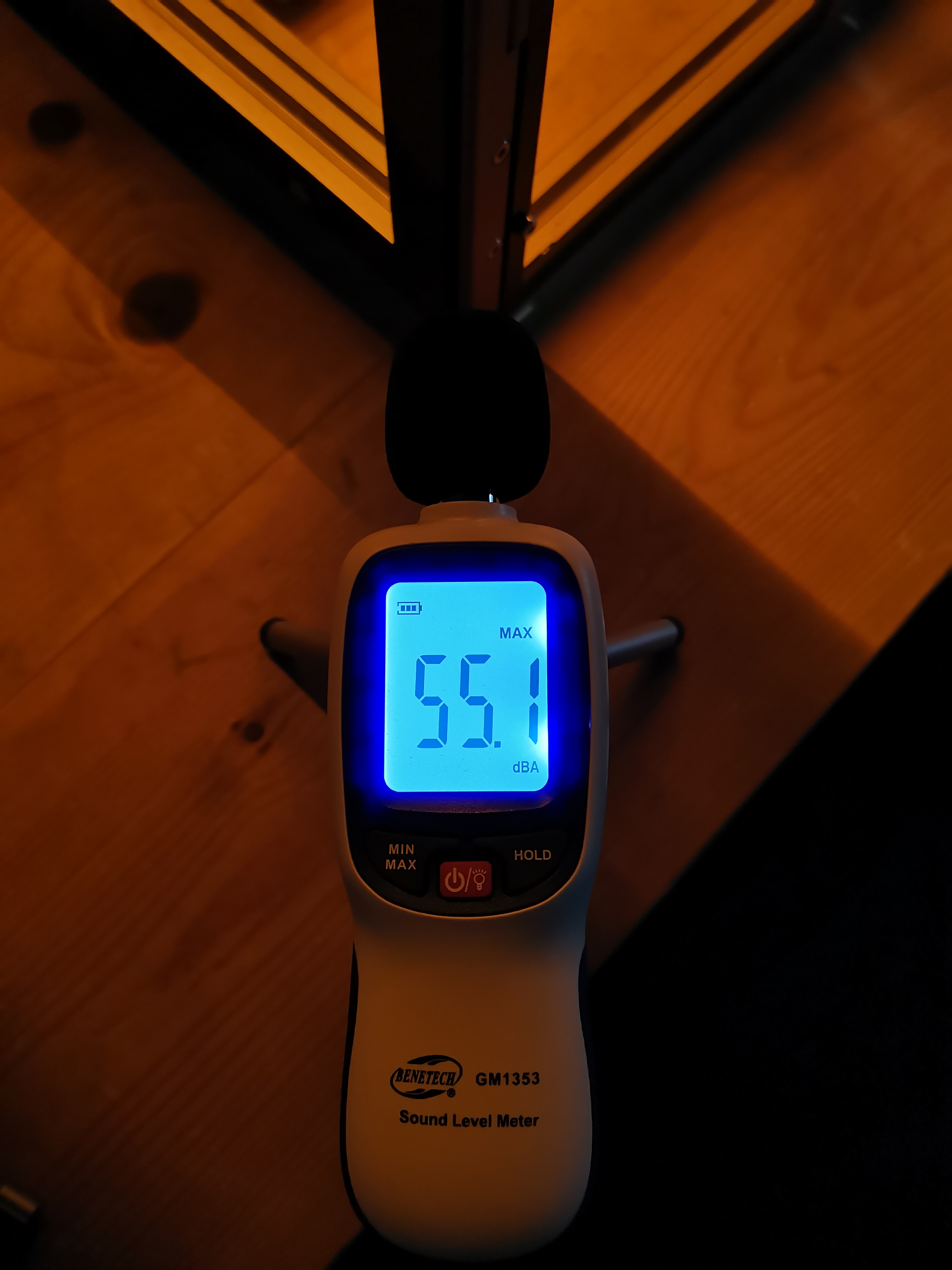 Test positions: 12 spots on the four corners of the machine and enclosure. We named them Spot A to L. Spot A, B, C and D were 10 cm away from the machine or enclosure, Spot E to H were 30 cm away, while Spot I to L were 50 cm away. The machine Power Module was put 10 cm away from the machine or enclosure in Case A and B, while hanged above the enclosure's Exhaust Fan in Case C.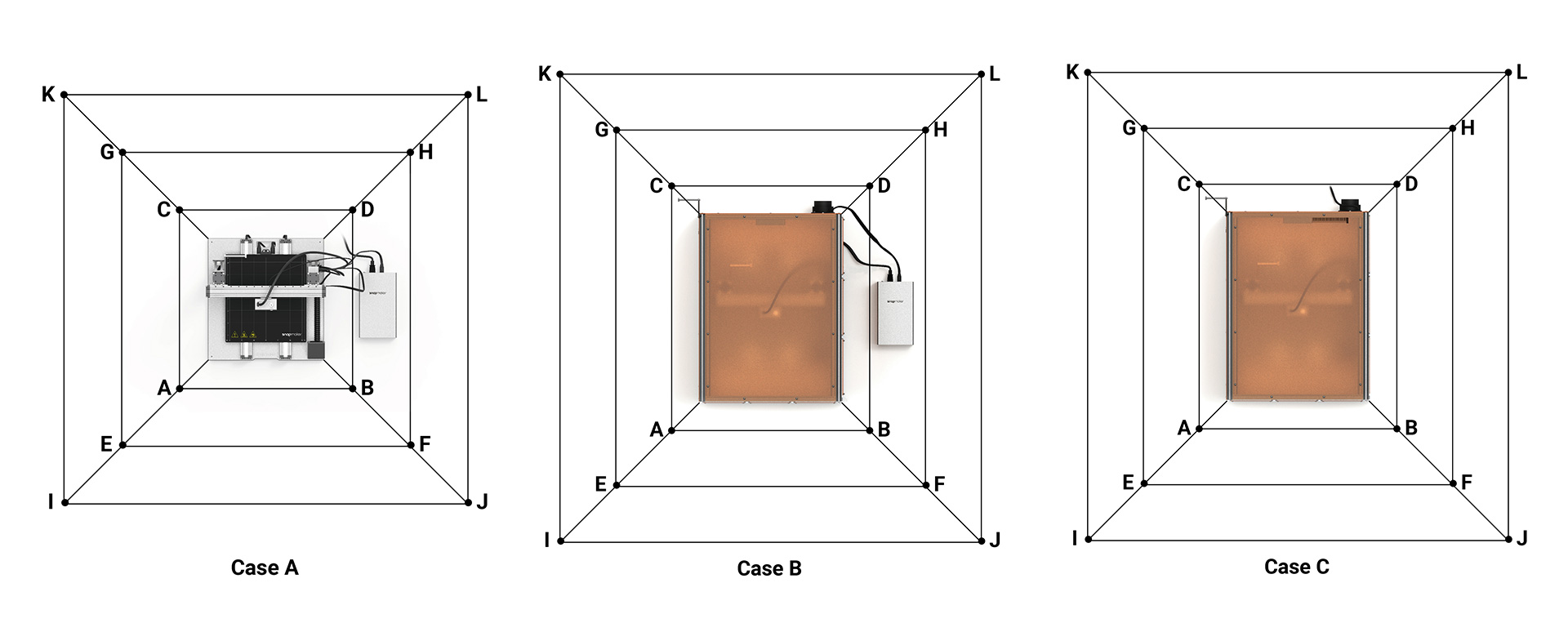 Test order: from Spot A to Spot L, in alphabetical order.
Number of tests
Average sound level on Standby: from Spot A to L, three times for each spot, once every 10 seconds.

Average sound level on 3D printing, laser & CNC: from Spot A to L, five times for each spot, once every 10 seconds.

Maximum sound level on 3D printing, laser & CNC: from Spot A to L, three times for each spot, with each test lasting for 30 seconds.
Test conditions
3D printing

Speed

Infill Speed: 40 mm/s

Outer Wall Speed: 10 mm/s

Inner Wall Speed: 15 mm/s

Travel Speed: 60 mm/s

Filament: 1.75 mm PLA

Exhaust Fan: ON
Laser engraving

Mode: Greyscale

Movement Mode: Line

Density: 7 dots/mm

Speed

Jog Speed: 1500 mm/min

Work Speed: 500 mm/min

Exhaust Fan: ON

CNC carving

Mode: Relief

Speed

Spindle Speed: 11,500 RPM

Work Speed: 600 mm/min

Material: 100 mm × 100 mm × 10 mm Beechwood Board

Carving Bit: 1.5 mm Flat End Mill

Exhaust Fan: OFF (When using the CNC function inside an enclosure, the Exhaust Fan should be turned off to avoid drawing and collecting dust in the Exhaust Duct.)
Check here for the full test record if you want to learn more:
https://drive.google.com/file/d/1jAUKMoRyDLnxhMvAdUR-2Ea4R7hEWCwk/view?usp=sharing
Some Tips:
1. The fan on the back of the Power Module is one of the main sound sources, yet we can't put the module inside the enclosure. That's why Spot D, H and L beside the back of the Power Module are relatively noisier (see the attached excel file). Snapmaker team is working on a quieter Power Module by optimizing its cooling system. It's coming soon.
If you need to use the machine in your study, bedroom or dormitory, one solution is to take the fan out of the Power Module and temporarily fix it to the outside of the box. Check this forum topic for details: https://forum.snapmaker.com/t/sm2-power-module-noise/6129/39
Or, we can also share the pothook model if you wish to take it as a temporary solution.
2. The level of sound you can feel is also affected by a combination of other factors, such as the work speed of the machine, the material used for CNC processing, the platform and position where you place the machine at, and whether the machine is properly assembled.
If you feel that the machine makes an abnormally loud noise, try moving it to a flat and stable platform, or reassemble the machine parts that you think might be loose. Lastly, if you have any questions or difficulties using our products, you are very welcome to contact our technical support team: support@snapmaker.com.