The goal of 3D printing leveling is to ensure that the distance between the nozzle and the heated bed is always the same when the printer is printing. The nozzle should neither be too far from nor too close to the heated bed. If the nozzle is too far from the bed, the first layer will not stick to the bed. If the nozzle is too close to the bed, it will scratch and damage the bed, and the filament can't be extruded smoothly. Here are 3 tips and tricks when you level the heated bed.
1.Clean the nozzle and the bed
Before starting any of your prints, please ensure that the nozzle and the heated bed are clean.
First, make sure the tip of the nozzle is clean. The simplest way is to wipe the nozzle with a cloth after heating up the nozzle to 210℃. Please note that the nozzle is quite hot and you should use a thick cloth to do the cleaning.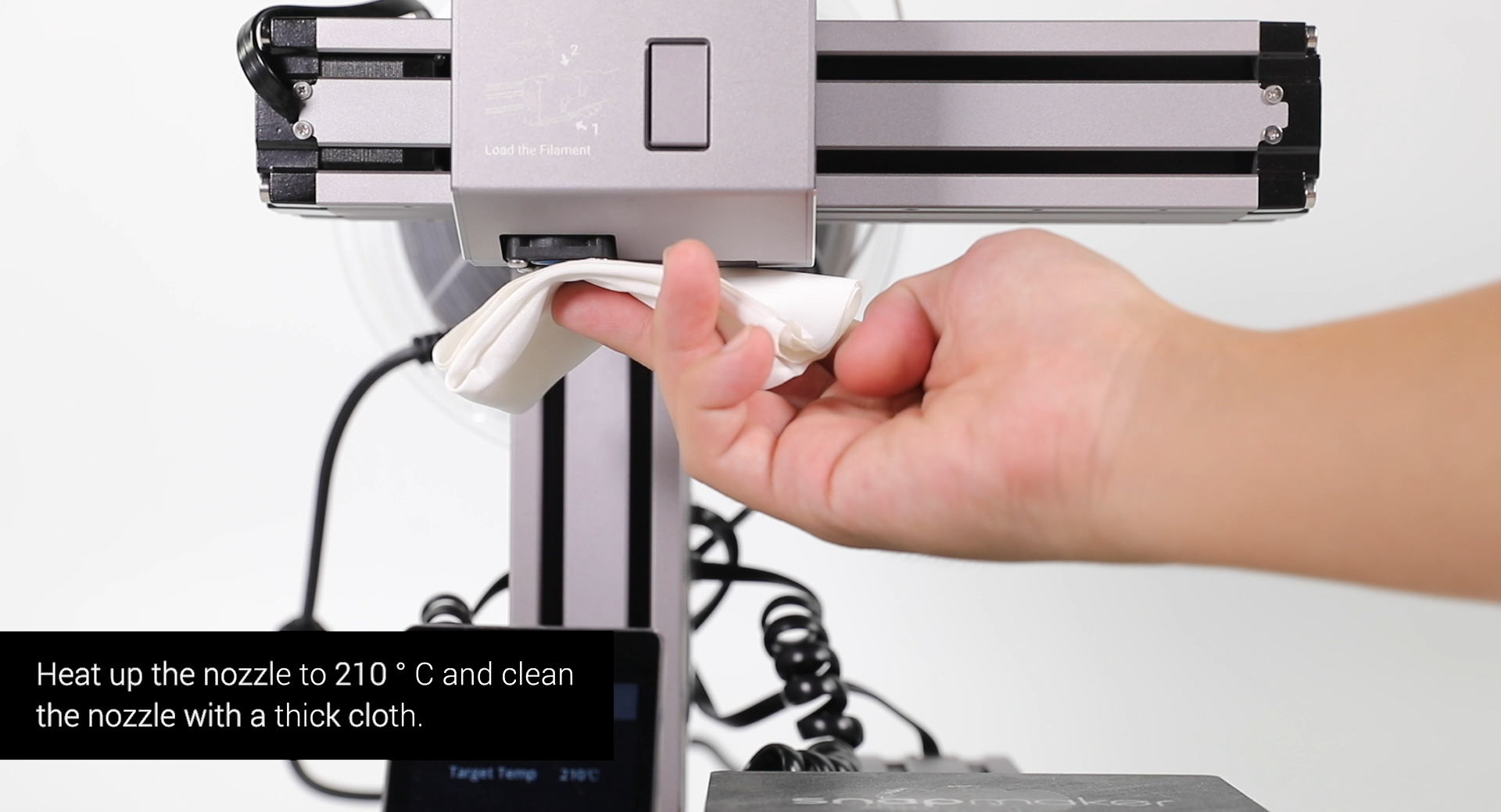 Second, it is very important to keep the heated bed clean to ensure the best adhesion. You can use rubbing alcohol to remove grease stains from the bed.
2.Tighten the four screws under the heated bed. It ensures that the bed doesn't have room to move up and down when leveling or printing.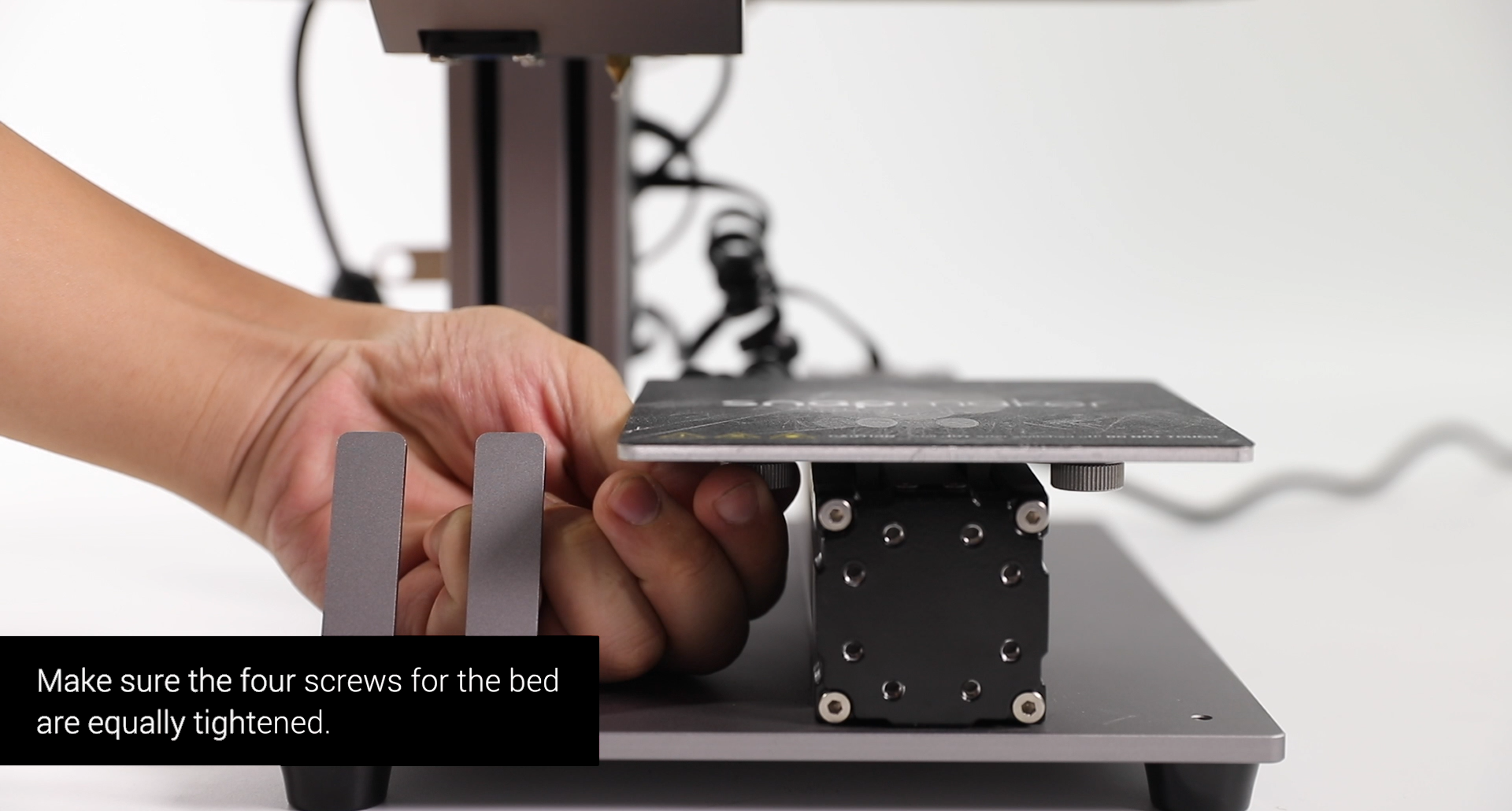 3.Level the four corners in order
The 4 corners should be leveled in order. The "paper test" is the most popular way to calibrate the bed. You can use a piece of A4 paper or the provided calibration card.
On the touchscreen, go to Settings > Calibration.
Put a piece of A4 paper between the nozzle and the bed. Tap 1 and the 3D printing module will move to the first calibration corner.
Adjust the nozzle height by tapping the Up and Down buttons on the touchscreen. Be sure to choose MOVE 0.05mm for fine adjustment.
Finish adjustment when the paper can no longer be pushed forward yet it can still be pulled back with a slight resistance.
Tap corner 2 and repeat the calibration process to level the second corner.
Level the four corners in order and save the settings.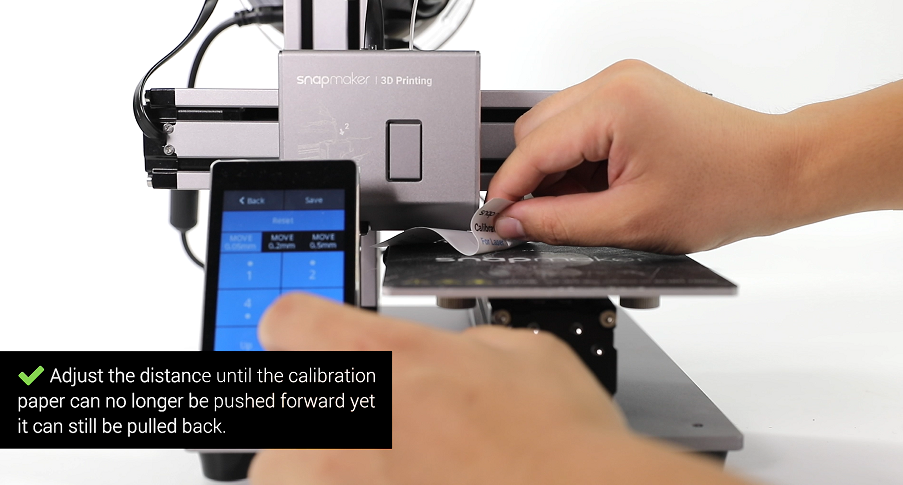 Feel free to contact us for more help at support@snapmaker.com. We are always available to help you out.