Thank you for reaching out to us.

It seems that the end-stop switches in the Y axes are always triggered which causes this issue. Here are a few steps for troubleshooting.

- Please dismantle the platform, heated bed from the Y axes so that we can see the movement of the sliders clearly.

- Connect the machine with the PC via the provided USB cable. Launch Snapmaker Luban and then select the right serial port, open the console.

- Enter the command M119 to check the end-stop status.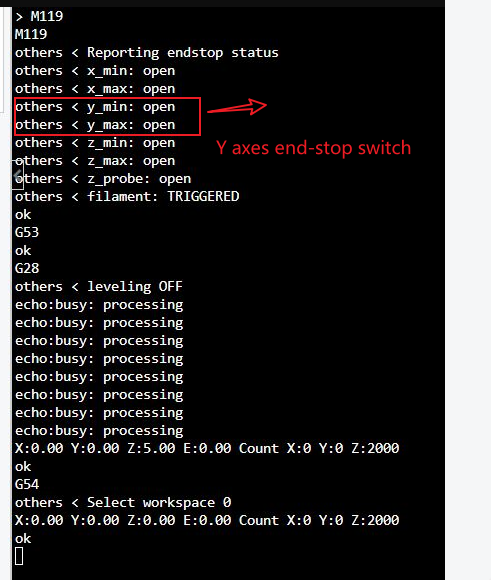 - If the y_max or y_min shows triggered, please check the two linear modules separately. You can plug the cable of the Y-axis into the Y port in the controller directly and re-do the M119 command, and check which one is triggered so that we can tell you how to fix it by yourself.

- If you can locate the erroneous linear module, you can open the non-wire cover of it and check if the end-stop switch is deformed or trigger all the time. You can clear switch to make it work again.

Here are some images for your reference.

You can learn how to dismantle the cover via this video: https://drive.google.com/file/d/1q9LAunxcJwygbzCzvMEdUagqdbWXxuP_/view?usp=sharing