What the sign of "NA" means is that the controller cannot detect the tool head or the heated bed, so the controller send no temperature value to the touchscreen, which leads to the sign of "NA". You can test that by power on the machine without the heated bed or tool head plugged in.
Please follow these steps to troubleshoot:
1) Make sure all the cables are connected properly according to the following picture.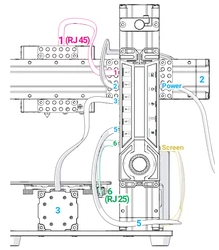 2) Turn off the printer, disconnect the cable from the heated bed and connect it again, and power on the printer. If it still shows NA on the touch screen, shake the cable and see if there is any change. If shaking the cable doesn't change anything, please check the port on the controller that is connected to the heated bed, the port on the heated bed and both ends of the cable. If there is any pin missing or misalignment, please take a photo of it and send the photo to support@snapmaker.com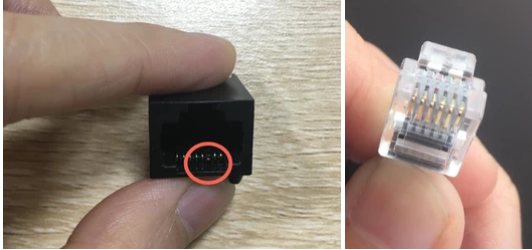 3) Please use the Laser engraving module and the CNC Carving module. If the two modules cannot work as well. If you have a multimeter, please follow these tutorials to test the connectivity of the RJ25 cable and the RJ45 cable: https://www.youtube.com/watch?v=R0Z5s-vJ5E4. If all the ports and cables are not defective, please go to step 4.
4) Please clean the pins on the plug and the socket cable on the controller with a cleaner containing alcohol to prevent the metal wires from oxidizing during use, which will cause poor contact.
5) Power off the printer and detach the heated bed from the Y-axis. Check if you can see the thermistor (the little black thing) at the bottom of the heated bed next to the port. Also, send a photo similar to the following one to us.
6) Dismantle the side board of the module, please make sure the thermistor(the white tube in the picture) is fixed firmly in the hole.
7) If the thermistor is missing/damaged / not well welded, please fill in the warranty request and email support@snapmaker.com for replacement parts.