The linear module accumulates dusts and bits after using the printer for a period of time, especially after using the CNC Carving Module. This may lead to missing layers or noise when printing. Therefore, when you find dusts in the groove of the linear module and missing layers in your prints, please follow these steps to clean the linear module. Usually, the Y axis collects most of the dusts from the printer, so we will use the Y axis as an example.
Tools you need: the provided screwdriver, brush, a pair of gloves.
1.Disassemble the linear module end cover(not connected to the cable)
Make sure the power is off and the linear module is disconnected from the controller before you start to disassemble the linear module end cover. Loosen the 2 Phillip's head screws on the linear module cover and don't take them out. Disassemble the end cover after removing the 4 2.5mm screws on the end cover.

2.Clean the inside of the linear module
Use a brush to clean the three areas including the back of the end cover, the groove and the lead screw. You can tilt the linear module to empty the tiny remains.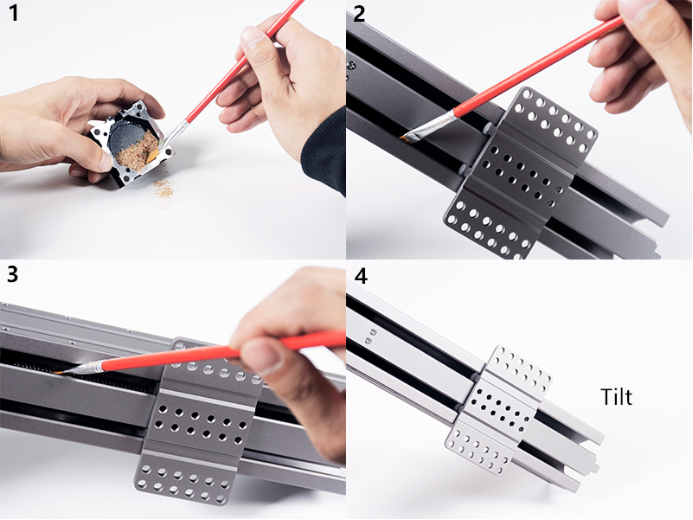 3.Assemble the linear end cover
Make sure the end cover aligns with the side of the linear module. First tighten the 4 2.5mm screws on the end cover and then tighten the 2 Phillip's head screws on the linear module.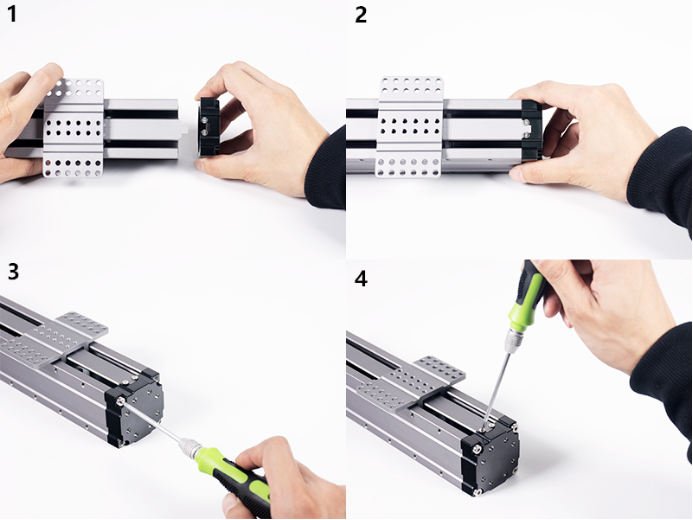 4.Test the linear module
Make sure that the 3D printing module is connected to the controller before testing. With the Homing feature, it ensures the bed won't hit against the end of the linear module as it moves to the Y-max position.
1.Power onthe printer.
2.On the touchscreen, go to Controls > Home Axes.
3.Go to Controls> Jog mode> Move 10mm > Y +.
4.When the slider moves according to your commands, checkwhether the slider can move smoothly and if there is abnormal noise from the linear module.
5.If there is no abnormal noise and the slider moves smoothly, the linear module is cleaned up successfully. Turn off the power and finish the assembly.
Feel free to contact us for more help at support@snapmaker.com. We are always available to help you out.