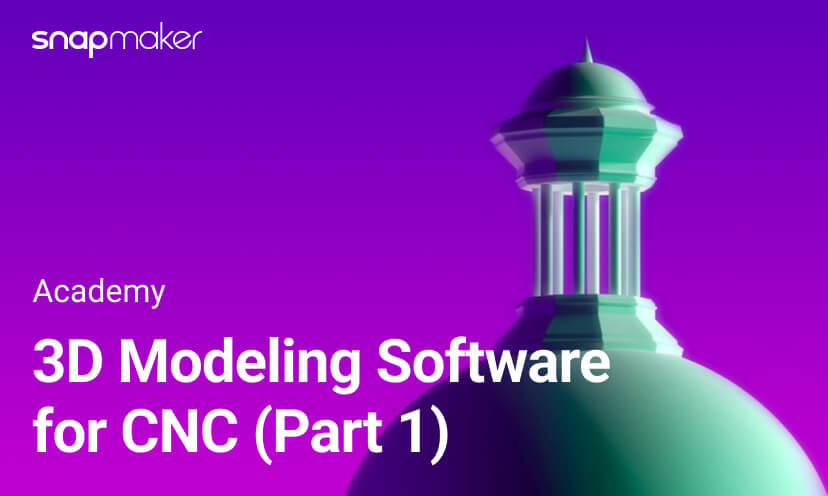 Hey there, Maker!
In the previous article, Going from Art to Part: Models, Designs and Videos for CNC Carving, we explained that model files are the first step in the workflow of CNC carving and introduced several websites that offer ready models. But, what if you're looking to turn your unique ideas into reality?
A relief carving of your cat, a wooden tray sized to fit snugly into your corner cabinet, a spectacle frame tailored to your face shape ... If you've ever thought of making something like that, now's the time to take a step further.
New to 3D modeling or not sure how to choose modeling software? Snapmaker Academy is here to help! In this article, we will walk you through eight practical CNC modeling software picks for creating your own 3D models from scratch.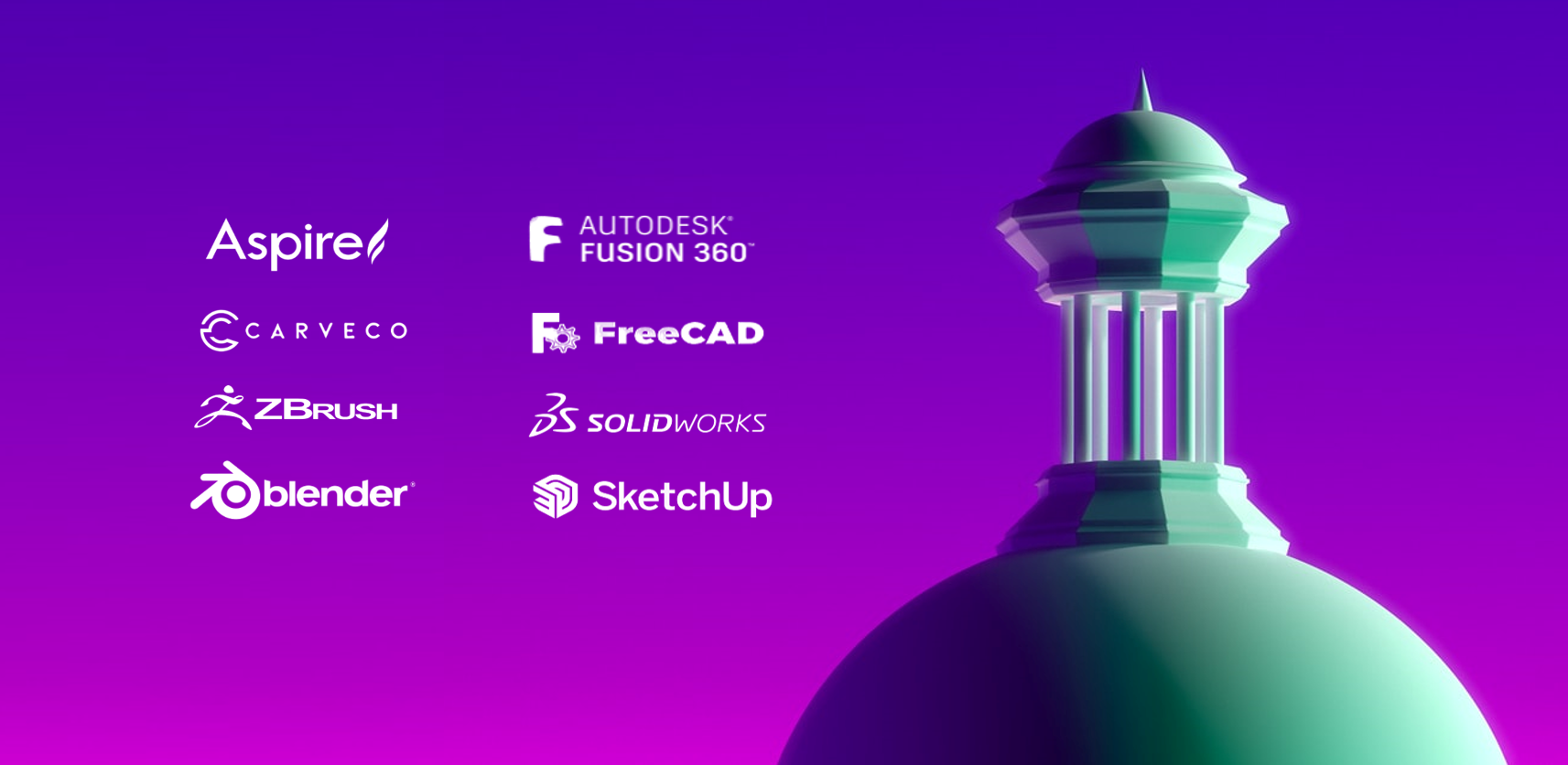 Photo by Fakurian Design on Unsplash
It's worth noting that we're touching on modeling software for CNC carving purposes only and do not intend to involve detailed software tutorials.
How to choose CNC modeling software?
The thing is that the dozens of modeling software on the market often come with distinctive operating logic and functional features. Considering the cost of learning, it's definitely wise to do your homework in choosing the right one. Here are some key factors worth considering: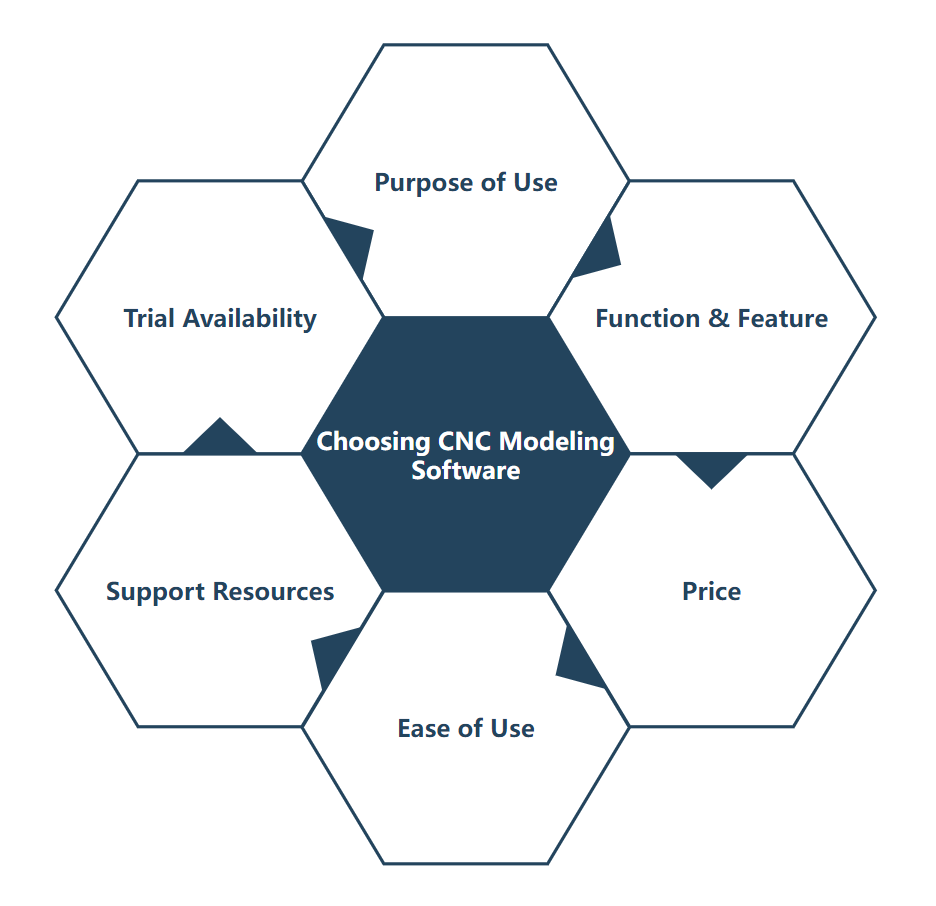 Purpose of Use


The software you should use when designing something to be CNC machined depends greatly on what you are trying to make. For beginners, powerful or comprehensive functions may not be necessary. On the contrary, advanced functions can be intimidating until you become proficient.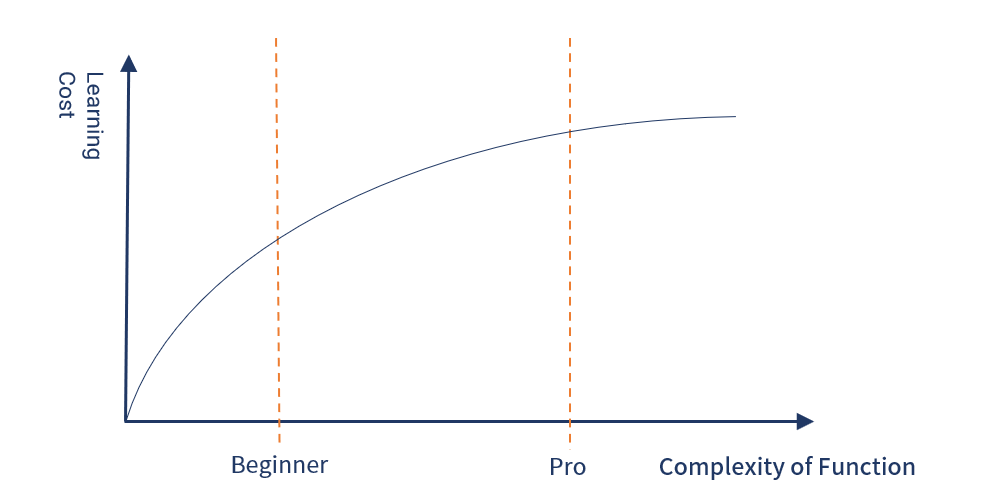 Function & Feature
The usage of 3D models determines how they should be designed. That's why modeling software varies in function, feature, and expandability for specific fields.
Price
The vast majority of modeling software is charged with prices ranging from a few hundred dollars to several thousand dollars. Before placing your order, make sure you understand what is included in the service.
Ease of Use
The ease of use relates directly to the cost of learning the software. A helpful reference is how intuitive the interface is. Shortcuts can also be a time-saver when making repetitive operations.
Support Resources
Support resources include official technical support, user communities, and relevant UGC. These resources are the channels you can resort to when encountering a problem. The larger the user base, the stronger the user community, which is especially important for beginners. Having the guidance of someone who has been there before can be sheer bliss when you're scratching your head over a particular feature.
Trial Availability
At the end of the day, one trial outclasses ten introductory articles in interpreting how the software works. Given the high pricing of most modeling software, an available trial version is probably the greatest virtue.
CNC Modeling Software
Solid Modeling VS Surface Modeling
First, notice that there is a fundamental difference between 3D models used for different purposes. For industries like machinery and mold manufacturing, 3D models require high dimensional accuracy and must form a closed space, so we call them solid models. For industries such as film and games, however, surface models are commonly used, which focus more on an object's external. They allow for more free-formed shapes and do not necessarily make up a closed space. Such models typically serve visual expression only, including animation character design, product display videos, etc.
Closed Space VS Open Space
An imperfect analogy would be a comparison between engineering drawings and art paintings: while one corresponds to real objects and must be precise to the length of each line and the size of each angle, the other is visually oriented and thus can go wild to display structures that cannot exist in reality.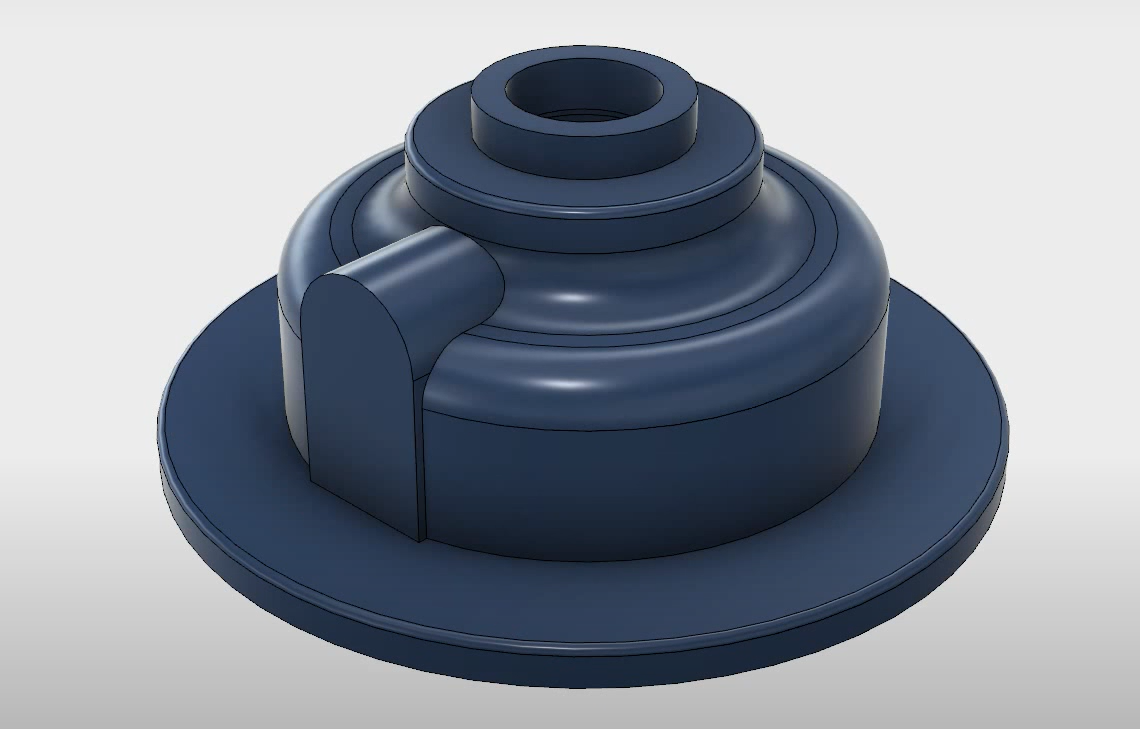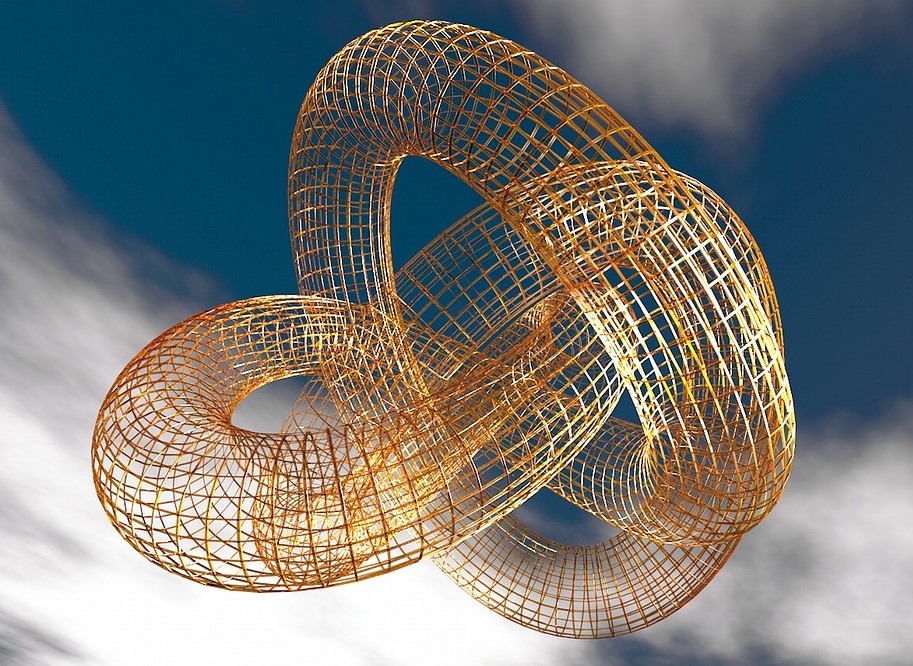 Actual Structure VS Surreal Structure
(Photo by Autodesk Fusion 360 on YouTube & 8385 on pixabay)
Accordingly, 3D modeling software can be divided into three categories based on modeling mechanism: solid modeling, surface modeling, and solid + surface modeling. In CNC carving, surface modeling is appropriate for creating ornamental reliefs or parts with lots of irregularly curved surfaces. Instead, products involving complex assembly or parts consisting of regular shapes like rectangles, round holes and straight lines are suggested to be designed as solid models.
Next, let's get to the point — modeling software for CNC carving. Note that the following software may support both kinds of modeling but is here divided into two categories — artistic relief and industrial design — based on the modeling mechanism it is known for.
Artistic Relief
Aspire
Price: $1,995 (Perpetual for a specific version, including free minor updates)
Supported System: Windows
Highlights: Relief design, 2D to 3D, 4-axis CNC carving, Integrated CAM
Aspire is a one-stop CNC software solution developed by Vectric. Featuring relief design, it allows simple and quick conversion from 2D images to 3D relief models. Here's how it works: after importing a 2D image, the software assigns a height difference to the image based on the shade of color to create a 3D relief model. The darker the color, the smaller the corresponding Z-axis height value, and the deeper the carving. For this type of conversion, a grayscale image works best. You can also start with a sketch and expand it into a 3D model step by step by operating manually.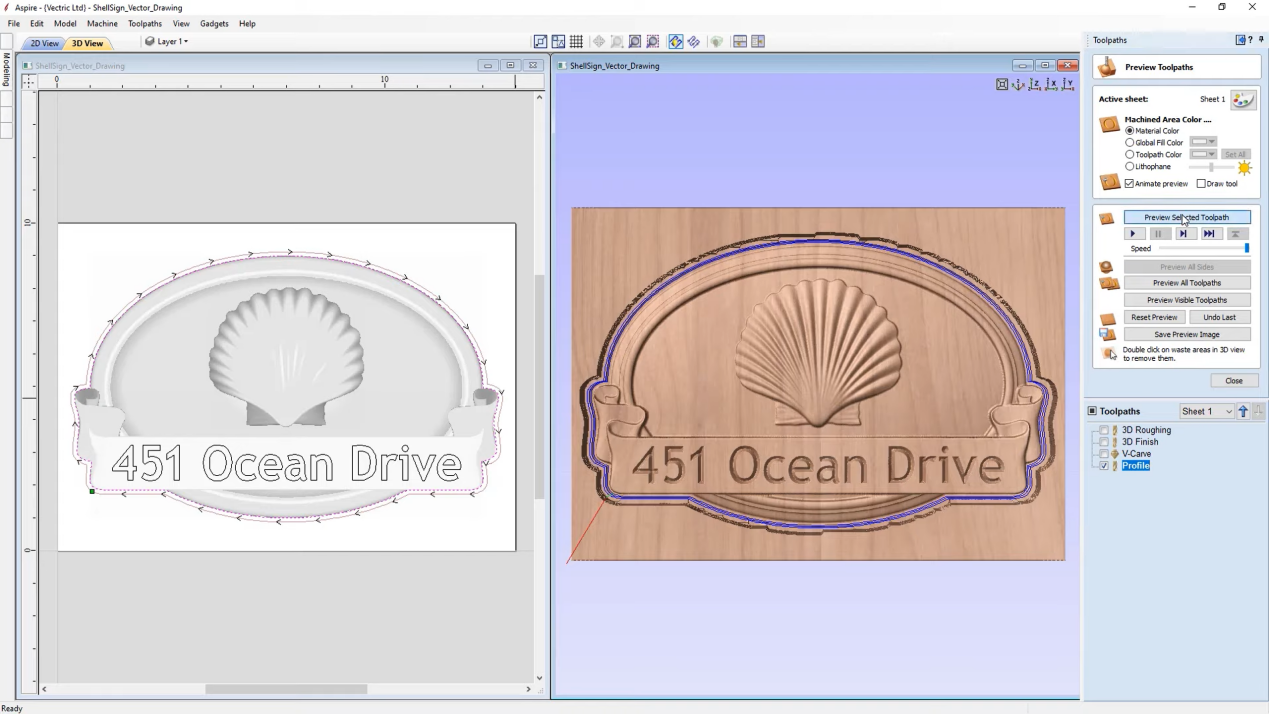 Aspire offers a set of handy tools and a rich library of resources for relief models. You can use filters to remove the noise in the image to create a smoother surface, or manually increase the Z-axis carving depth to further spotlight its three-dimensionality. What's more, the software comes with hundreds of free 2D graphics and 3D relief models to add to your creations.
Support for 4-axis CNC carving is another bonus. You can either design your own 4-axis models or import third-party models. Aspire's rotary job setup and auto-wrapped simulation allow you to visualize your job. Combined with Snapmaker Rotary Module, you're ready to create in a new dimension.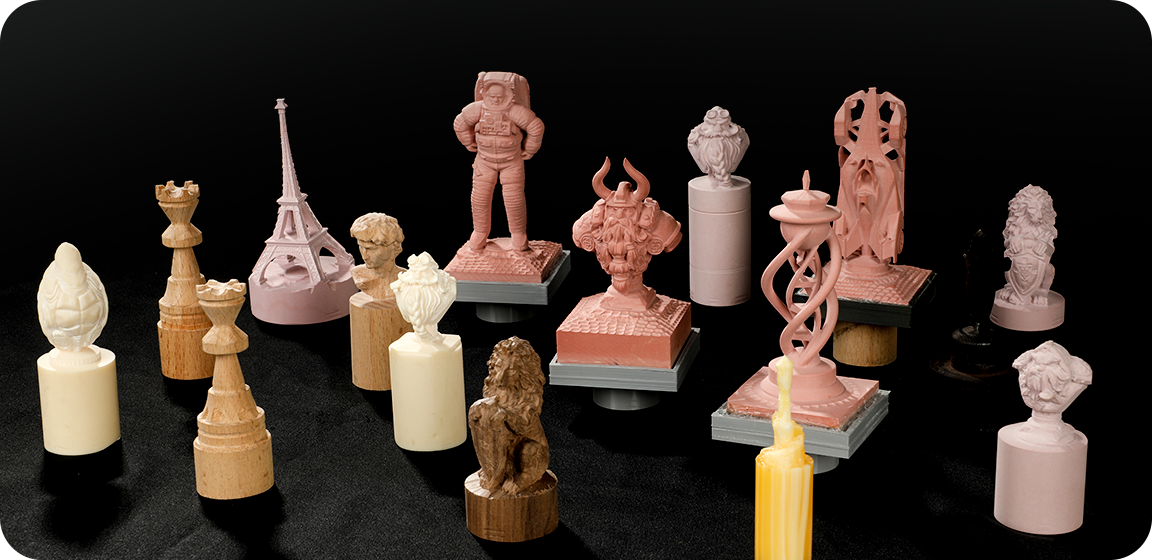 Cases made with Snapmaker Rotary Module
After modeling, the next step is to turn your model into commands that will instruct your CNC machine on how to move, which is also within the cover of Aspire. Aspire is capable of calculating 3D roughing and finishing toolpaths to accurately carve out your model, saving the trouble of using another CAM (computer-aided machining) software.
It's recommended to try out the built-in cases in the trial edition before purchasing. You can find tutorial videos for the cases on their official website. There are also many useful videos made by Aspire users, such as the one by Roger Webb, demonstrating the whole process of making a relief plaque from importing a grayscale image to setting toolpaths.
Carveco Maker
Price: $15/month or $180/year (By subscription)
Supported System: Windows
Highlights: Diverse relief editing tools, Broad range of supported file types, Integrated CAM
You may not have heard of Carveco, but you're probably familiar with ArtCAM, one of the oldest software devoted to CNC. In fact, ArtCAM is the predecessor of Carveco. The software was acquired by Autodesk and then discontinued in 2018; that's when Carveco Ltd. was formed with the purpose of delivering continuity of access and service of ArtCAM. Carveco Maker is the elementary variant of the Carveco software range.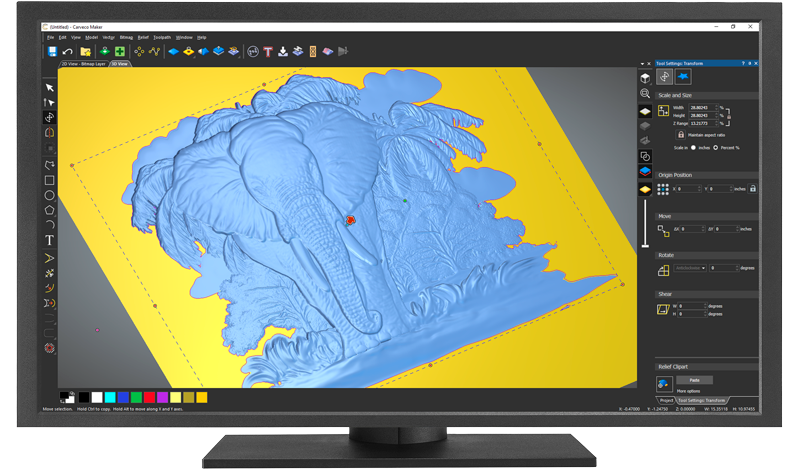 Just like ArtCAM, Carveco Maker is powerful and easy to use, making it popular among woodworkers, sculptors and makers. Besides the regular 2D sketch design and 3D modeling tools, it also includes multiple features customized for relief models, such as conversion from grayscale or vector image to relief, embossing STL model to relief, one-click smoothing of relief, and more. You get to control the final presentation and fineness of the finished product at your own pace. Its relief clipart library contains more than 600 exquisite relief models, all free to use in your CNC projects.

Carveco Maker's Relief Clipart Library
Carveco Maker works easily with different types of graphics, 3D models, and CAD (computer-aided design) files. Integrated CAM is also one of its strong suits, enabling choices over machining strategies, tool configuration, toolpath generation, and real-time simulation of the final look of your design.
The Carveco team has produced a series of well-made instructional videos covering key tools and features such as Reliefs from Images. In addition, ArtCAM's existing large user base and tutorial videos are also available resources for Carveco Maker since the two pieces of software are basically the same. Carveco does not offer a trial version but a 14-day money back guarantee on the software is available.
ZBrush
Price: $39.95/month, $179.9/6 months, or $895/perpetual
Supported System: Windows, macOS
Highlights: Digital sculpting, Modeling with brushes, Intuitive operation
ZBrush is a leading software package in digital sculpting software, endeared to film studios, game developers, and illustrators globally. One of the major games made with ZBrush is Assassin's Creed. As the name suggests, digital sculpting is like sculpting some digitized clay through manipulating geometric shapes by pushing, pinching, chiseling and slicing with brushes. Compared to traditional 3D modeling, its operating logic is far more intuitive, reproducing the natural feeling of working with a real-life object.
It is ideal for creating detailed surface models with sophisticated and irregular shapes, powerful in presenting realistic shadows, textures, and creases.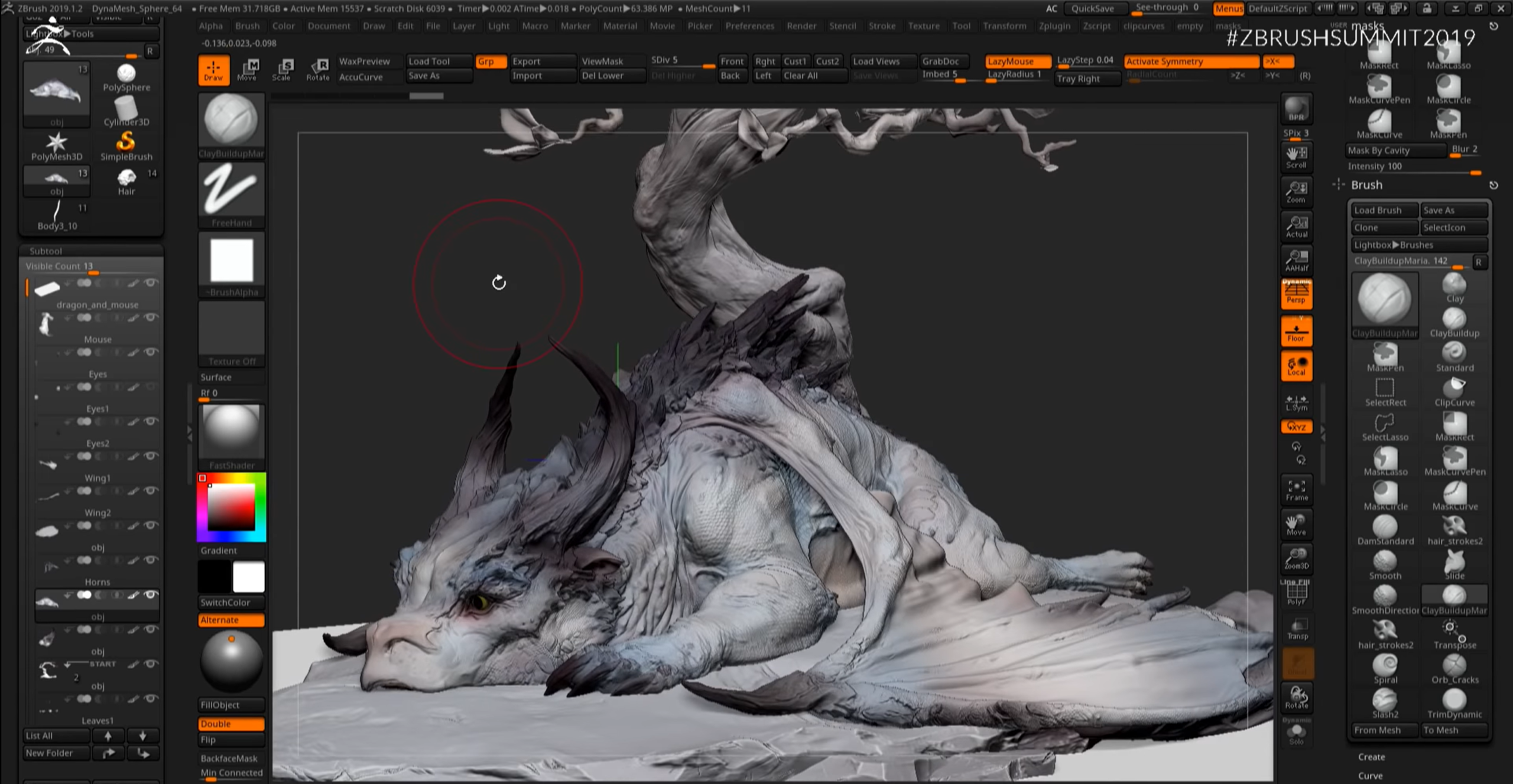 When used for CNC modeling, ZBrush is competent in both creating 3D models from scratch and collaborating with other modeling software to add more details to your relief models, such as softening joints, adjusting partial height difference, adding textures, etc. The software is also great in real-time rendering that provides instant feedback. However, to generate toolpaths and G-codes, you need to use plug-ins or import your model into CAM software.

Plentiful sculpting brushes in ZBrush
Thanks to its intuitive logic, ZBrush is easy to get started, and tutorial videos abound. Its trial version has no restriction on features, which lasts 30 days.
Blender
Price: Free
Supported System: Windows, macOS, Linux
Highlights: Open source, Cross-platform, Free interface layout, Integrated digital sculpting
Blender is open source software for all platforms, providing 3D creation pipelines from modeling, rigging, animation, simulation, rendering, to video editing. As the only mainstream modeling software that is free for life, it is a public project hosted by the Blender Foundation, with the mission to bring 3D technology as tools in the hands of artists everywhere in the world.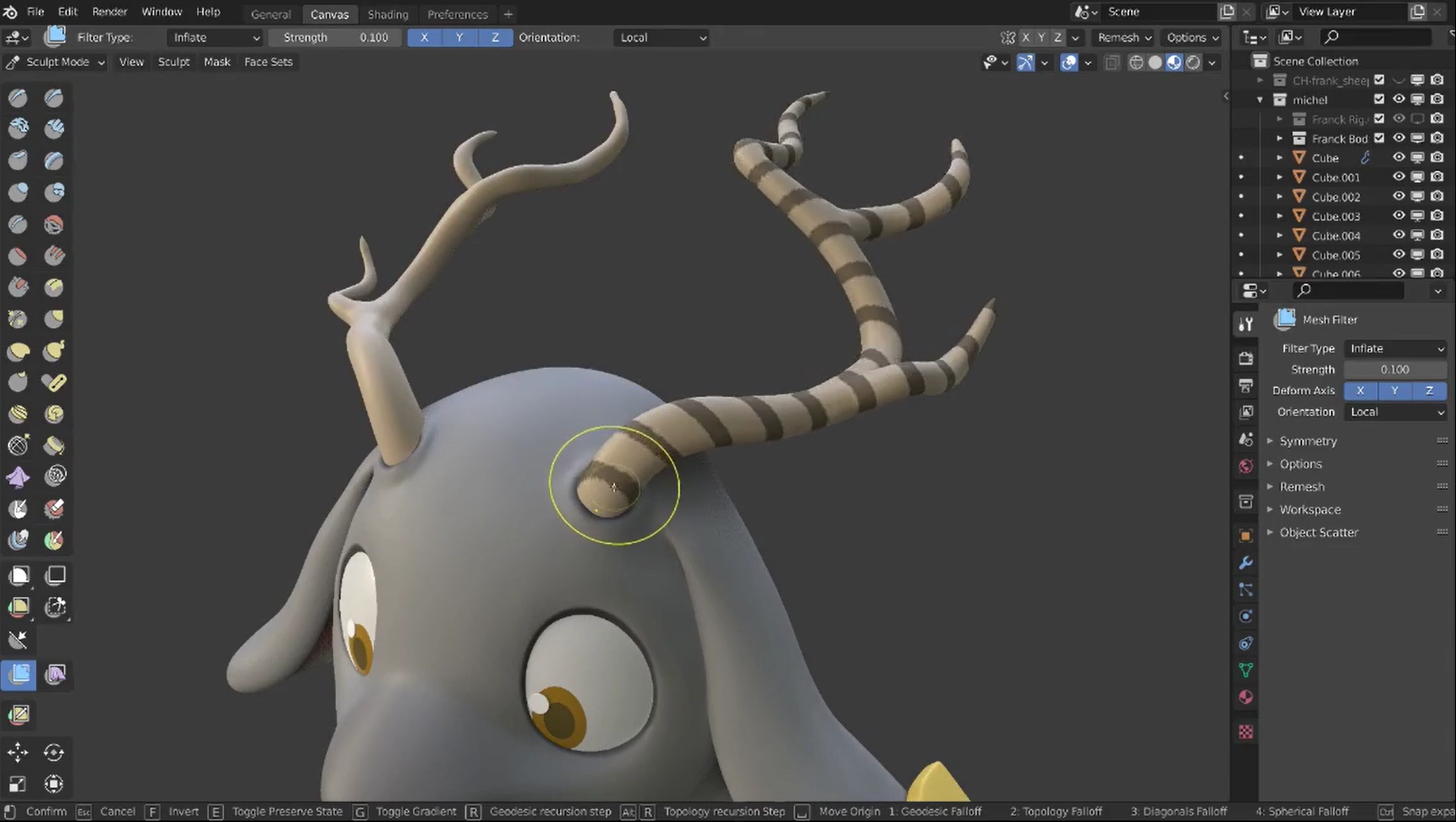 Beyond polygon modeling, Blender also integrates digital sculpting, empowering fast and free detailing using brushes. Though not comparable to ZBrush in this regard, it is qualified. As with ZBrush, the generation of toolpaths and G-code requires additional CAM plug-ins or software since it does not specialize in CNC.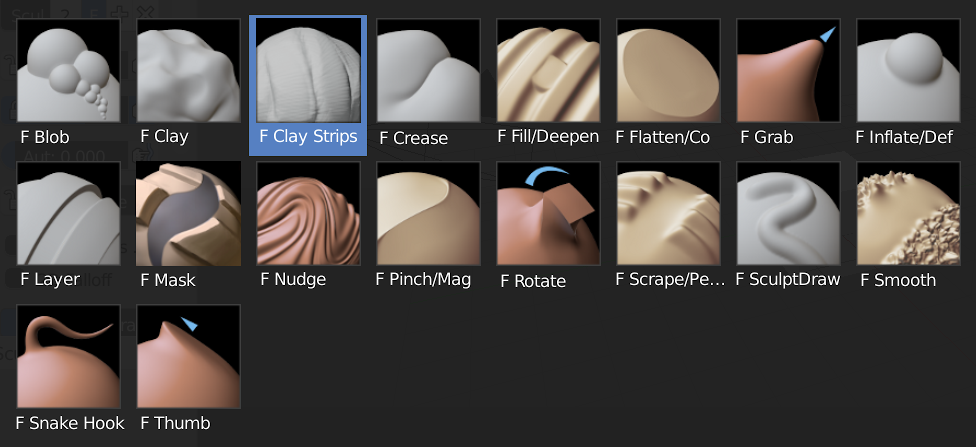 Sculpting brushes in Blender
A typical workflow in CNC relief modeling is to import a 2D image, trace the profile with polygons, expand it into a 3D model by operations like stretching, and then smooth the edges and corners with subdivision tools, including sculpting brushes. You can find many related videos on YouTube, such as Decoration Modeling in Blender 2.9 Part 1.
Being free and open source does not equate to a lack of support resources, at least not with Blender. Donations from users, developers, and companies keep the foundation and their official technical team running. Also, Blender's growing community is very helpful and ready to come to your aid when in trouble.
Summary & Next Up
This article introduces four pieces of artistic relief modeling software: Aspire and Carveco Maker, which specialize in CNC and excel at relief modeling with CAM tools included; and ZBrush and Blender, which allow users to create or optimize relief models through digital sculpting.
Limited by length, this article breaks into two parts and this is the 1st part. In the next part, we will introduce Fusion 360, FreeCAD, SolidWorks, and SketchUp for solid modeling.
Disclaimer
Snapmaker recommends the software and videos to you in no particular order and for resource-sharing purposes only.
Snapmaker does not in any way endorse, control, or assume responsibility for the content, views hosted on, and services provided by the developers of the software or individuals.