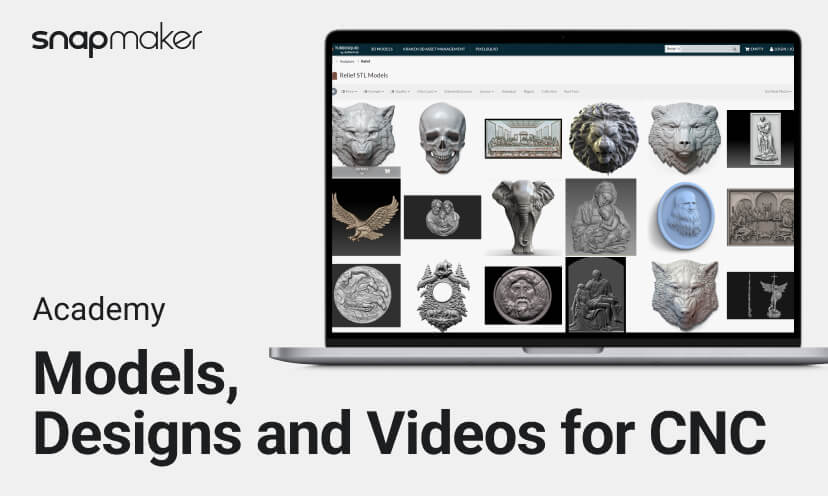 Hey there, Maker!
You probably already know that makers' world is full of possibilities. On top of that, as the owner of the Snapmaker 3-in-1 3D Printer, with its three interchangeable functions – 3D printing, laser engraving and cutting, and CNC carving – you're empowered with more than one key to unlock the door from imagination to reality.
So, what do you want to create with your Snapmaker CNC Module?
Here are 11 resources websites that will inspire you and provide access to model files, complemented by a series of tutorial videos. Hopefully, this article will help you in taking the first stride.
To begin with, let's go through some basic concepts of CNC machining.
What is CNC machining?
CNC stands for "Computer Numerical Control". CNC machining is a common subtractive manufacturing technology. The process involves removing material from a solid workpiece with cutting tools to achieve the desired shape. Compared to 3D printing, aka additive manufacturing, CNC machining is fundamentally different since it chips material off a blank workpiece instead of adding material to build a part.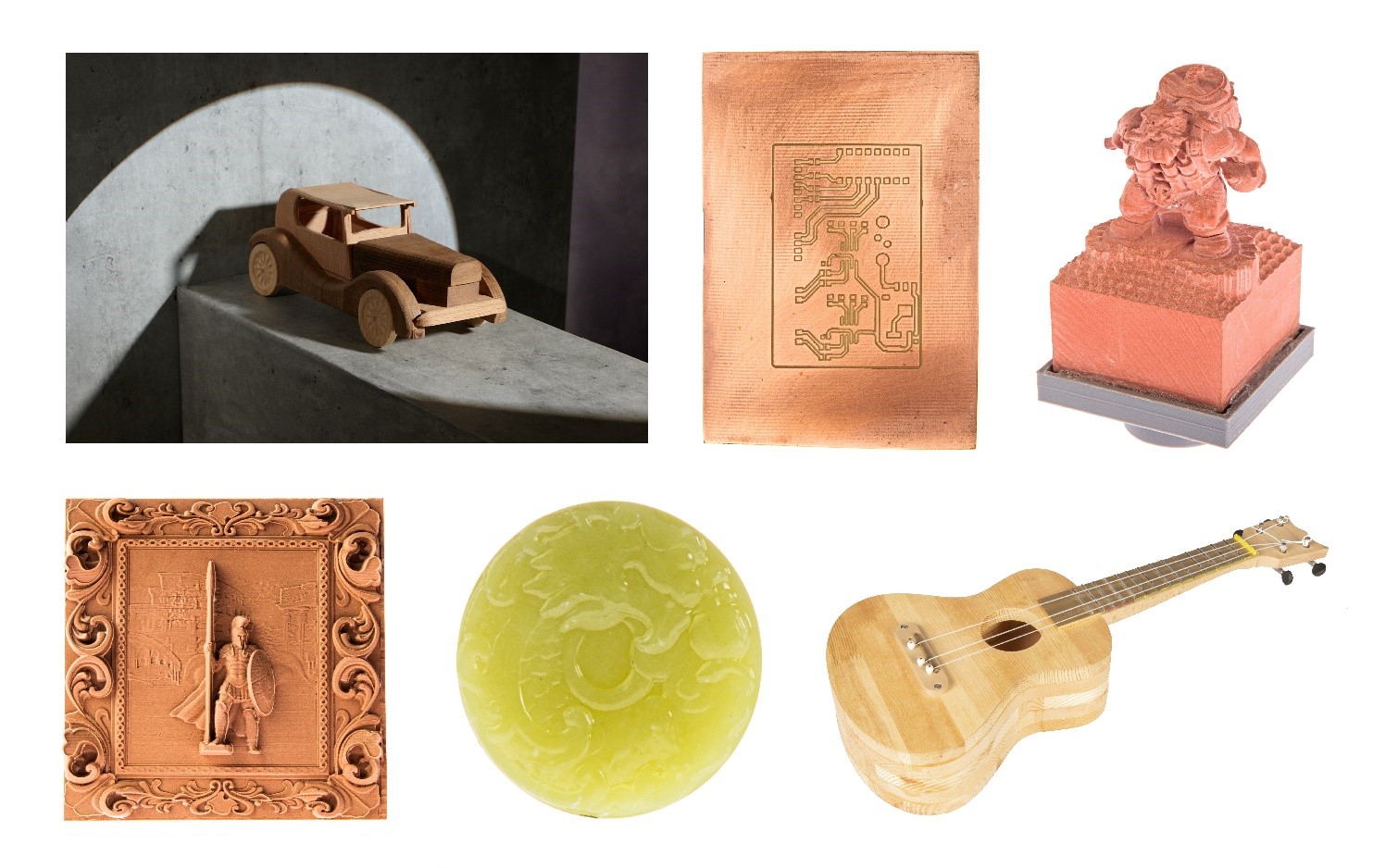 Cases made with Snapmaker CNC Module & Rotary Module
What can you do with a CNC machine?
CNC machining can work with a wide range of materials, including plastic, wood, jade, and metal. Technically, you can even build a house through CNC machining with quite some assembling, not to mention toy cars, ukulele, PCB…
Next, let's look at the workflow of CNC carving. Typically, it takes three steps to turn an idea into a finished product:
Obtain a model, either by modeling yourself or downloading from model repositories.
Turn the model file into a G-code using CAM software (such as Snapmaker Luban and Fusion 360). The G-code will instruct the machine on how to move.
Export the G-code to your CNC machine. Start carving on your machine and then wait for your job to be done.
Now that you've recognized what a CNC machine can do and how it works, let's get down to the gist. In the following CNC resources websites, you can indulge in inspiring ideas from all over the world or directly download model files and carve them out.
CNC Resources Websites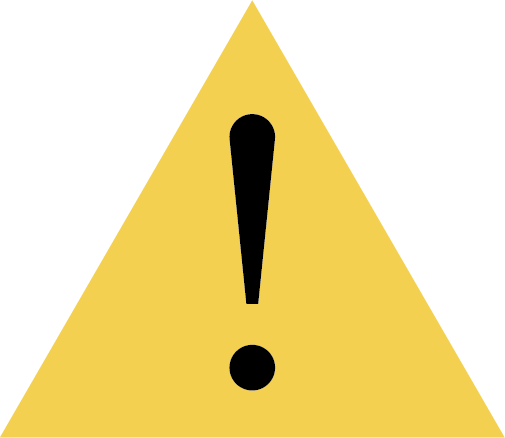 On the 3D model files provided in the following websites, except for those specified with compatibility of CNC machines, take care in identifying whether a particular model is suitable for CNC carving.
Thingiverse
Being one of the world's largest and most active 3D model file repositories, Thingiverse boasts three million users and over two million models. From regular household items, ACG character figures to mind-blowing gadgets, there's something for everyone. While models for 3D printing predominate, it's not hard to find models for CNC carving.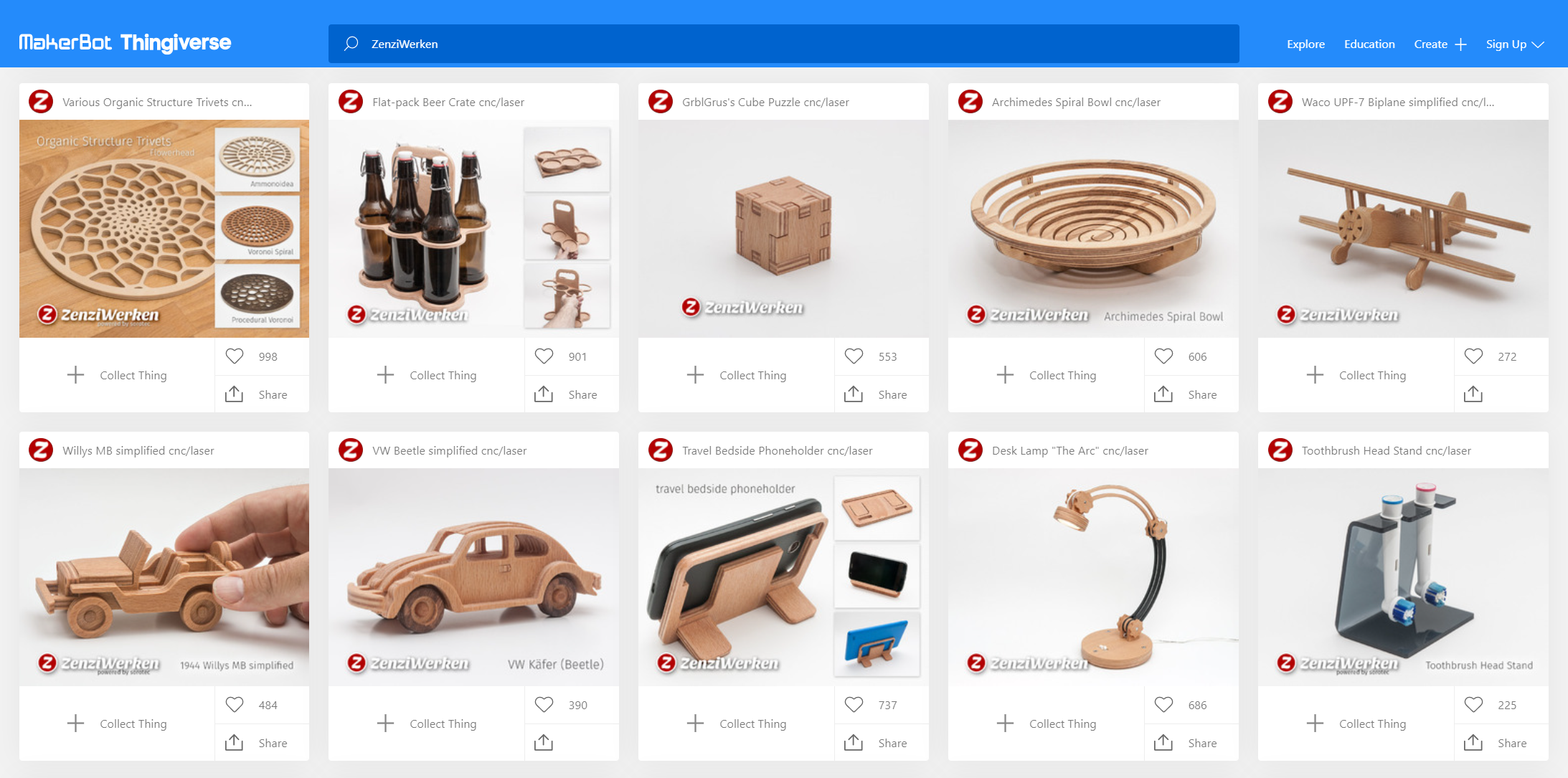 In this community, you can also follow people from all walks of life. If you're interested in CNC woodcarving, ZenziWerken is definitely one of the must-see accounts. It was created by Daniel, a German who loves woodworking. He has been sharing hundreds of woodworking cases designed and made all by himself over the years for free. Each case is exquisite and practical, with detailed instructions.
Since you can 3D print a 3D printer, be noted that if you simply type "CNC models" in the search bar, the results will mostly be parts for CNC machines. This might often be the case with the following websites as well. Therefore, it is best to search with specific keywords, such as "CNC toy cars". Thingiverse's search filters support only a few categories, which makes the right keywords even more critical.

GrabCAD
GrabCAD has more than 9 million users and nearly 5 million model files, all available for free download. The site focuses mainly on models for specialized fields such as automobile, mechanics, architecture, and industrial designs, distinguishing GrabCad from other 3D model repositories. However, you can also find numerous models suitable for CNC carving. For example, the keyword "chess" will return some nice matches.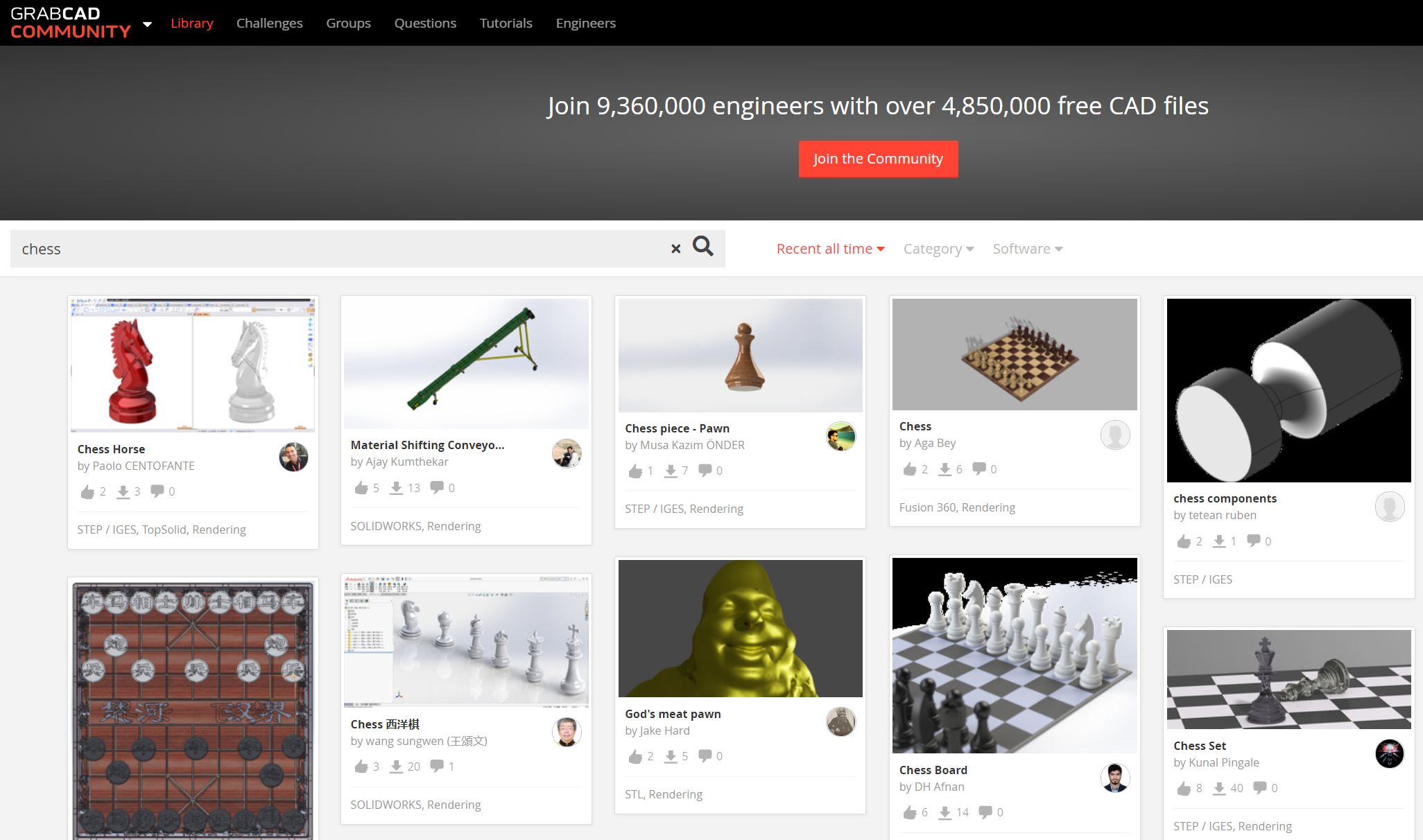 In addition to filtering by model category, GrabCad's search filters also support specifying file format and the software used to generate the model. To locate the model you need quickly, use precise keywords combined with appropriate filter criteria.

MyMiniFactory
MyMiniFactory is one of the most popular 3D model marketplaces with more than 160,000 models. Although not known for its volume, many of the models come from professional designers, and the average quality is excellent. All of the models have been tested by the community to ensure that they can be used for 3D printing, and some of them are also compatible with CNC milling.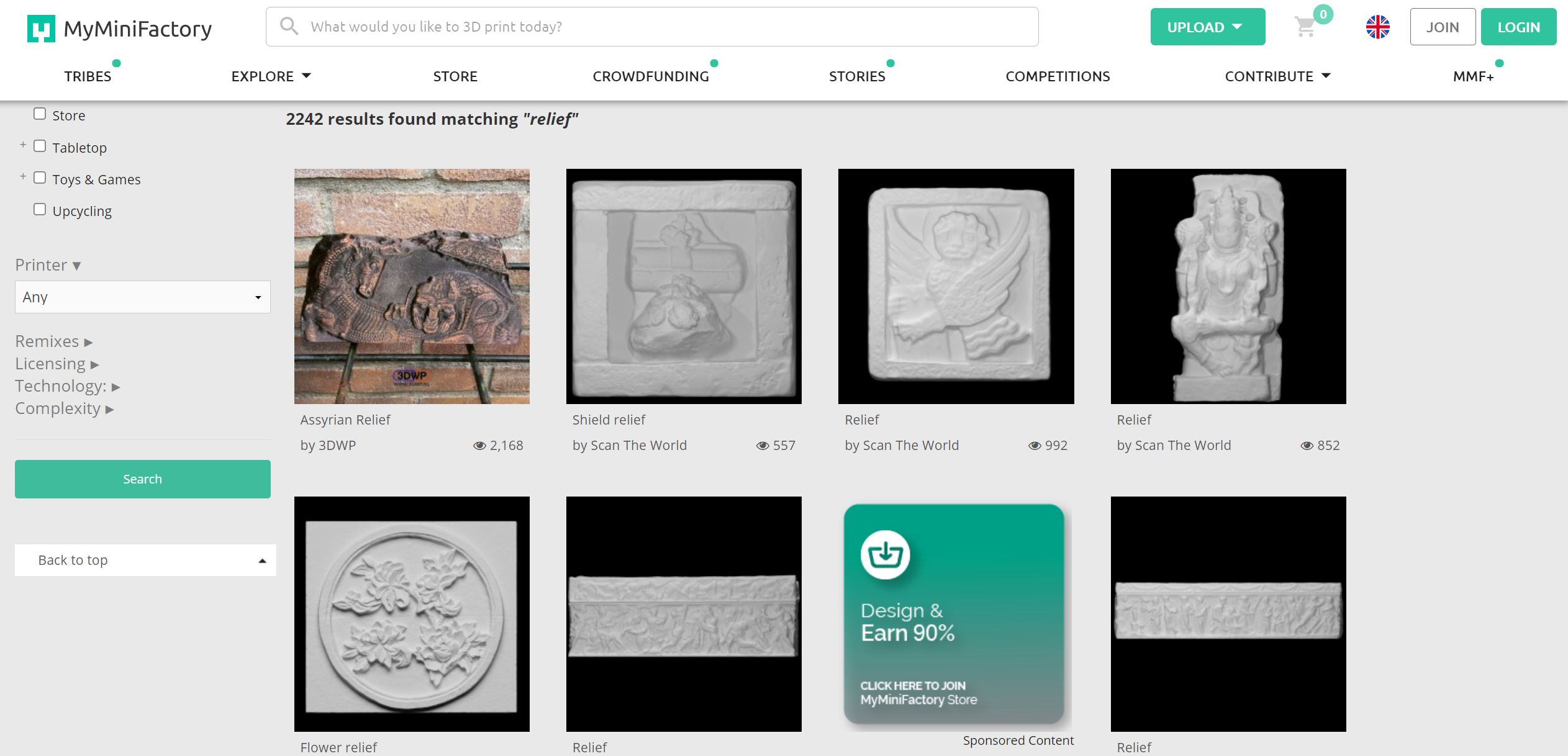 MyMiniFactory focuses on paid models from art and pop culture fields such as games, anime and movies. If you're a pro in designing or modeling, this is a great place to cash in on your talent.
MyMiniFactory also provides a small selection of free models. The site highlights easy-to-use search filters, which allow you to refine the results by category, pricing and complexity of the models, as well as the model of the 3D printer used. A direct search for "CNC" returns less than ideal results, and it is best to enter more specific keywords, such as "relief".

Cults
Cults is another designer-rich 3D model repository featuring delicate models. The site has over 3 million users and close to 420,000 models. Both paid and free models are available. If you're good at creating 3D models, you can upload your work to Cults and price it in just a few steps.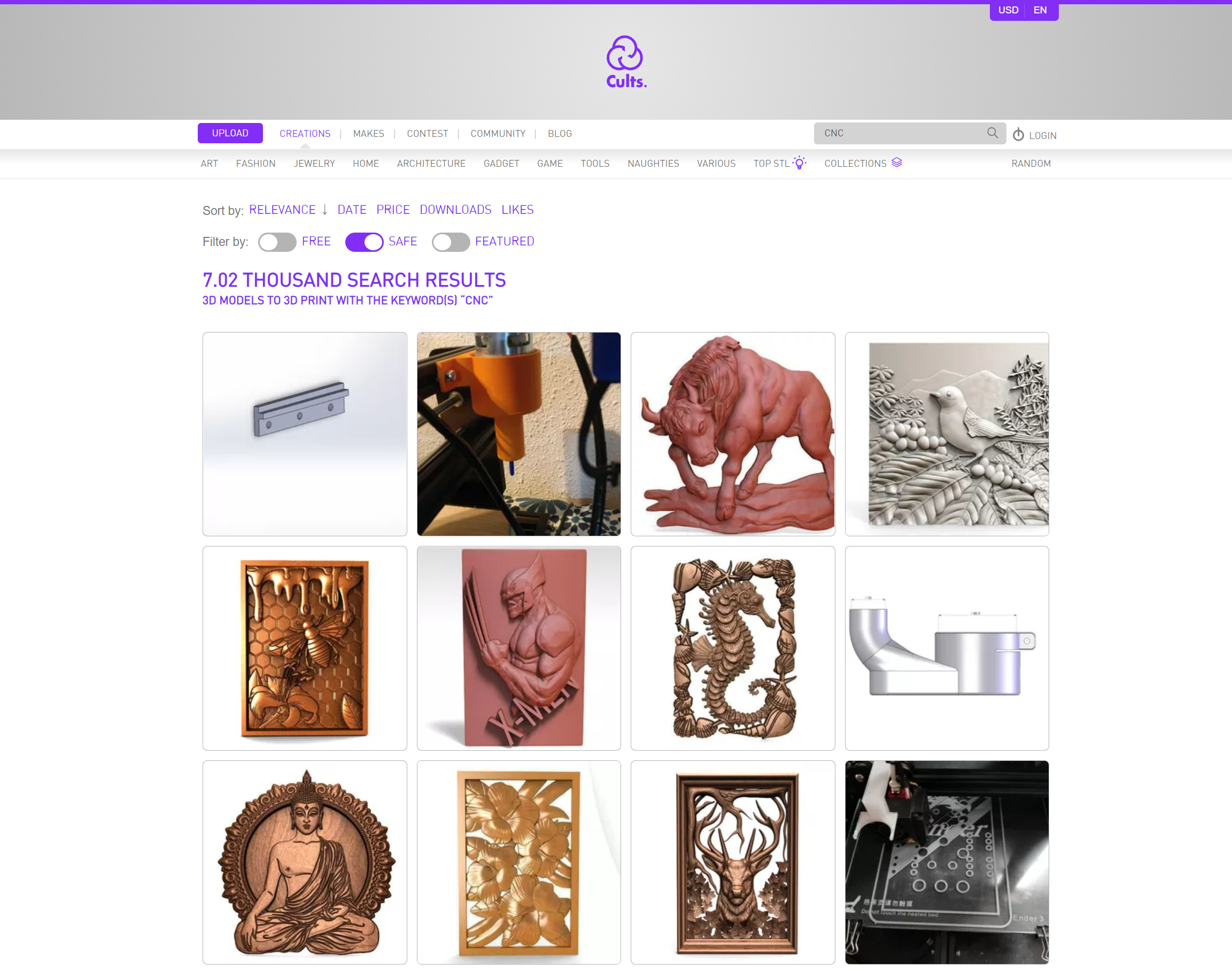 Surprisingly, searching directly for "CNC" on Cults leads to quite a few models designed for CNC carving. A more precise keyword will undoubtedly return more satisfactory results, though. On an account called "STLFILESFREE", you can find dozens of beautiful models for wood relief carving, all for free.

TurboSquid
TurboSquid models are used by game developers, architects, visual effects studios, advertisers, and creative professionals around the world. You've probably seen TurboSquid models hundreds of times and didn't know it. A majority of the one million models uploaded here are priced.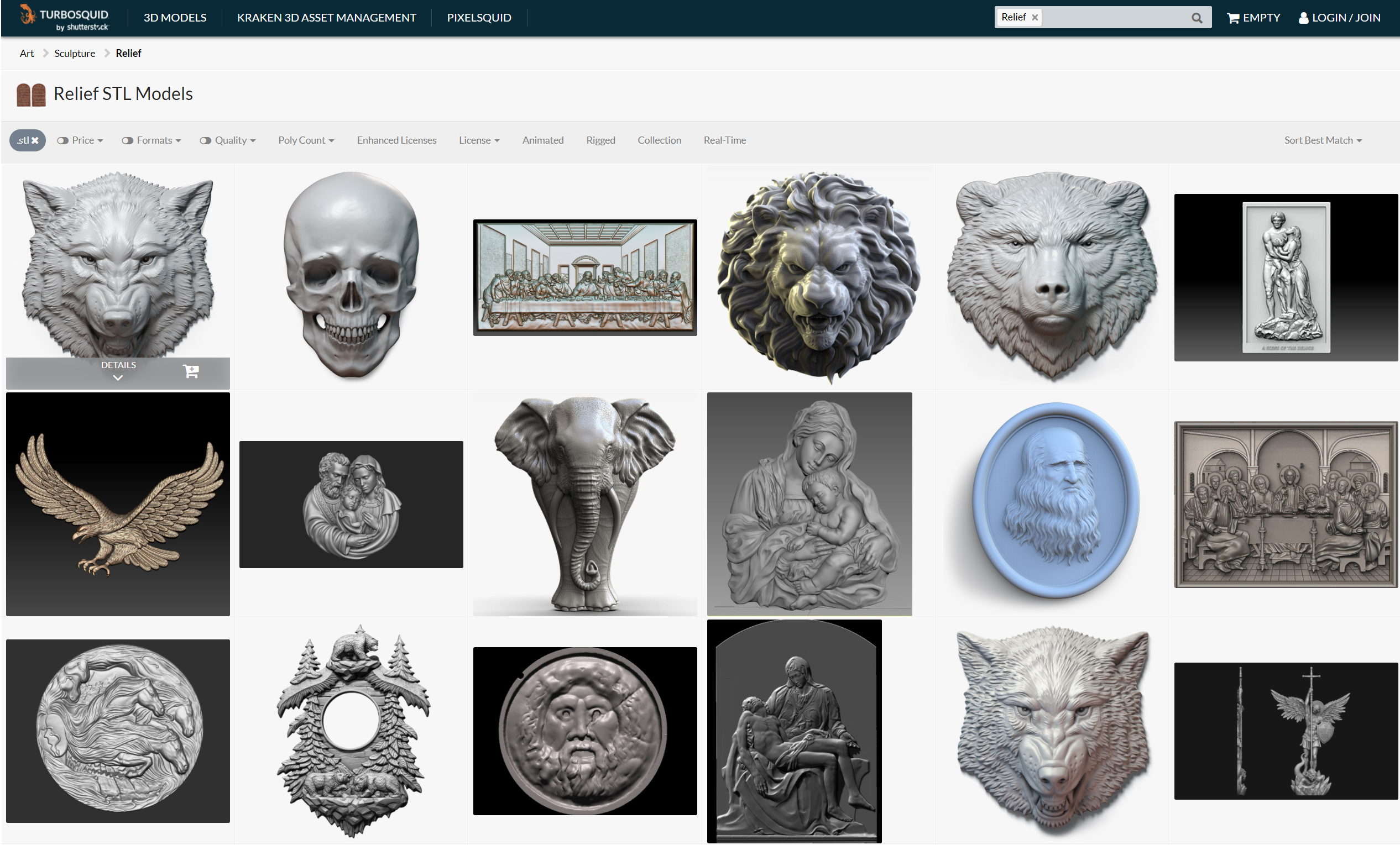 Most of the models on the site are not for 3D printing or CNC processing, but you can filter by STL format and enter specific keywords, such as "relief". You can also filter out free models, although the results may be numbered.

Instructables
Unlike the model repositories introduced above, Instructables is a community where DIYers share their creations. Each case contains detailed step-by-step instructions, accompanied by pictures, animations and videos; each step allows other users to add hints or ask questions, allowing sufficient interactions.
From electronics, mechanics, woodworking to cooking, Instructables offers cases of just about anything. On the Workshop subpage, there are separate sections for 3D printing, laser cutting and CNC. The CNC section is definitely a mine of information for experienced CNC players. In addition, the site has a Teachers section, thoughtfully divided by grade level, to encourage teachers to apply DIY cases in their classes. Search directly for "CNC" plus keywords, such as "CNC toys", and you'll likely find some fascinating results. Not every case comes with ready model files, but all cases are available as a packaged PDF file for download.

Maker Union
Maker Union supplies free DXF files of high quality with a simple and easy-to-use interface. DXF is a vector image format that is well adapted to CNC machining, which acts as 2D patterns that guide your machine on where to cut. Processing DXF file with CNC machines will not leave black edges as opposed to laser engravers. The finished products are perfect for decoration.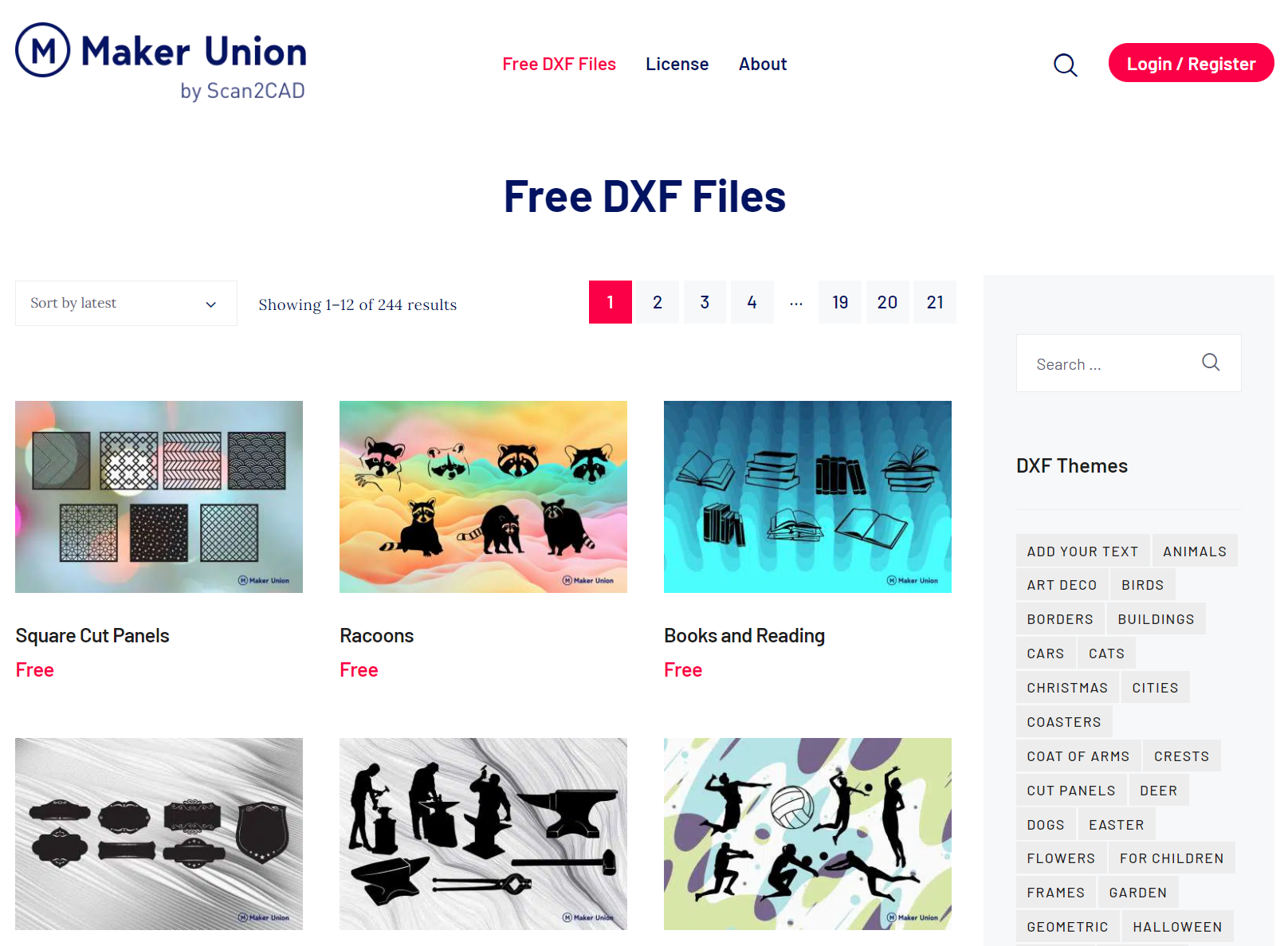 The site features theme-based display of files, where a set of beautiful DXF files can be downloaded as a package in a click. Although the number of themes is just over 240, there are on average 6–8 files under each theme, all of which are ready-to-cut for CNC machines. Maker Union supports keyword search of themes, and you can choose to display the search results by popularity, release date, etc.

MakeCNC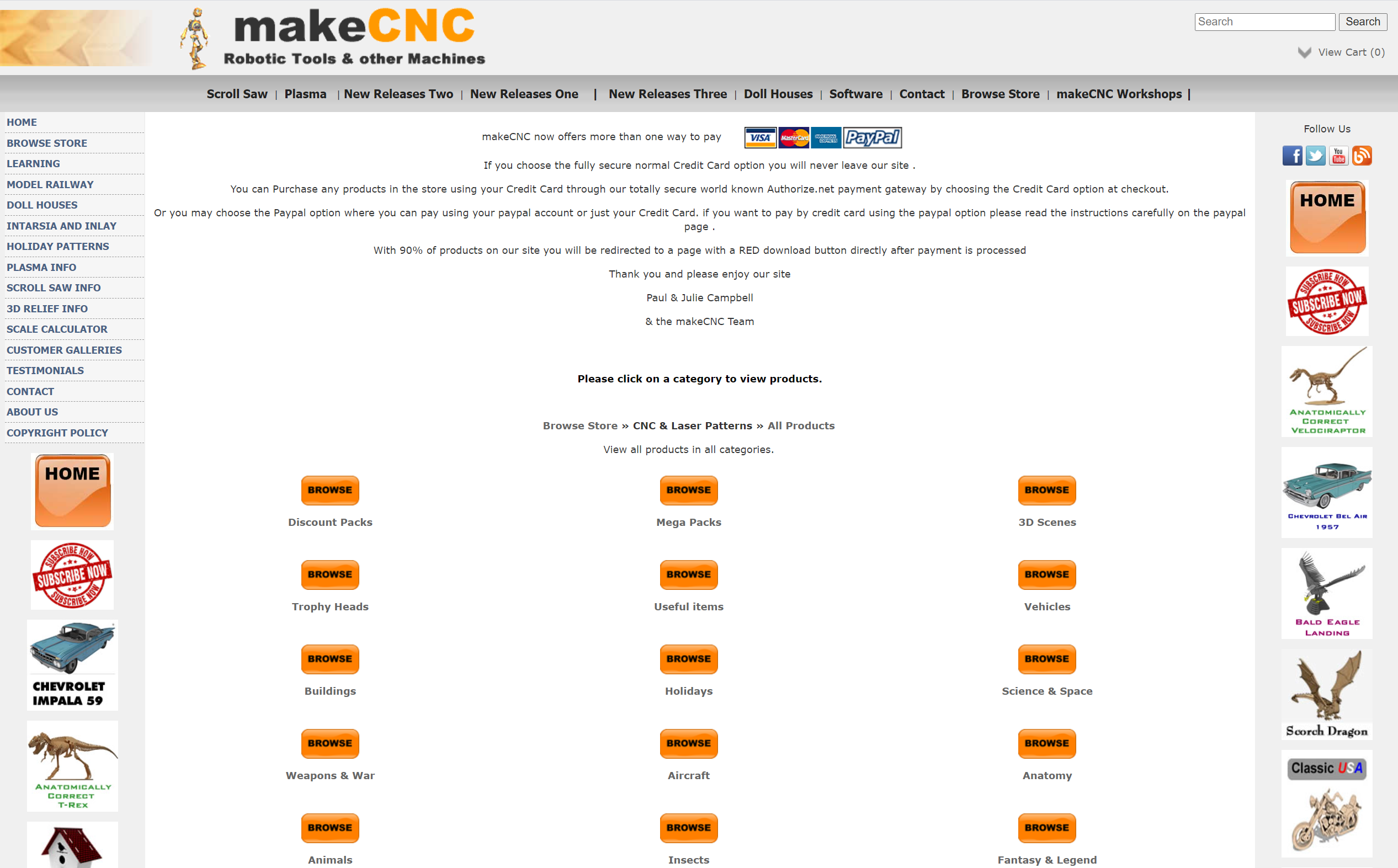 MakeCNC offers only paid models of high quality, covering categories such as architecture, vehicles, ships, mazes, animals with a total of more than 1,400 models. Each model consists of a set of vector graphics that can be used directly for CNC machining. Assembly is usually required, and a detailed assembly manual is hence included in the files downloaded. While cutting a single vector graphic poses little challenge, milling complex curved surfaces and carving assembly parts do require more experience in CNC machining.

STLFinder
As you can tell by its name, STLFinder is a search engine for 3D models in STL format. Thingiverse, GrabCAD and MyMiniFactory are some of the major 3D model libraries included in its index. The total number of models indexed is huge, with 159,316 results returned for the keyword "wall art" alone. It only supports filtering by paid or free models.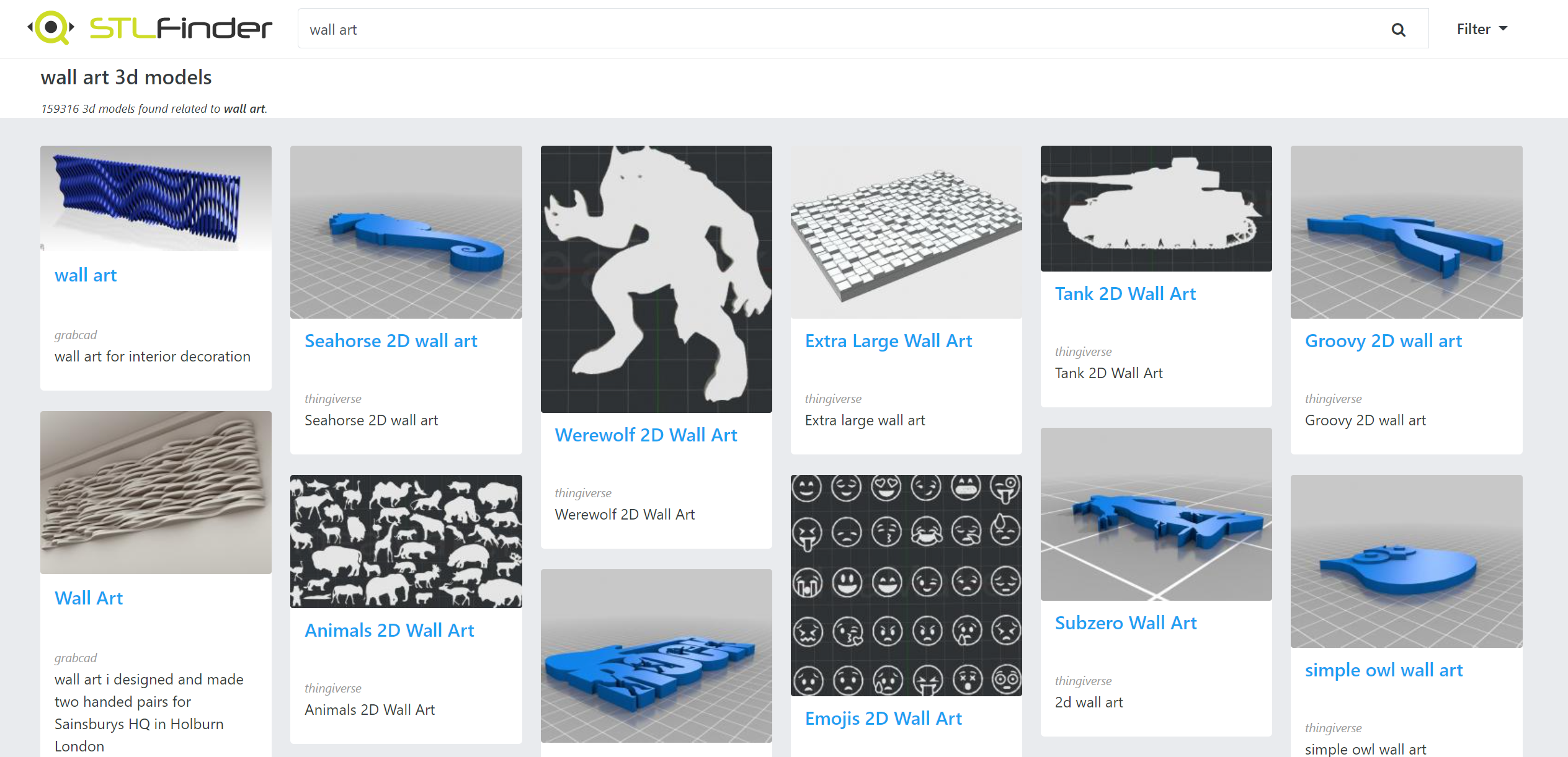 Etsy
Etsy is a marketplace focusing on handmade items and craft supplies. Apart from physical goods, there are also paid models under a broad range of categories, including home decor, toys, art, as well as tools; both 3D models and 2D patterns are available. Here you get to see buyers' reviews and photos of finished products on the page of each model file. You can also open your own store on Etsy and price your creations.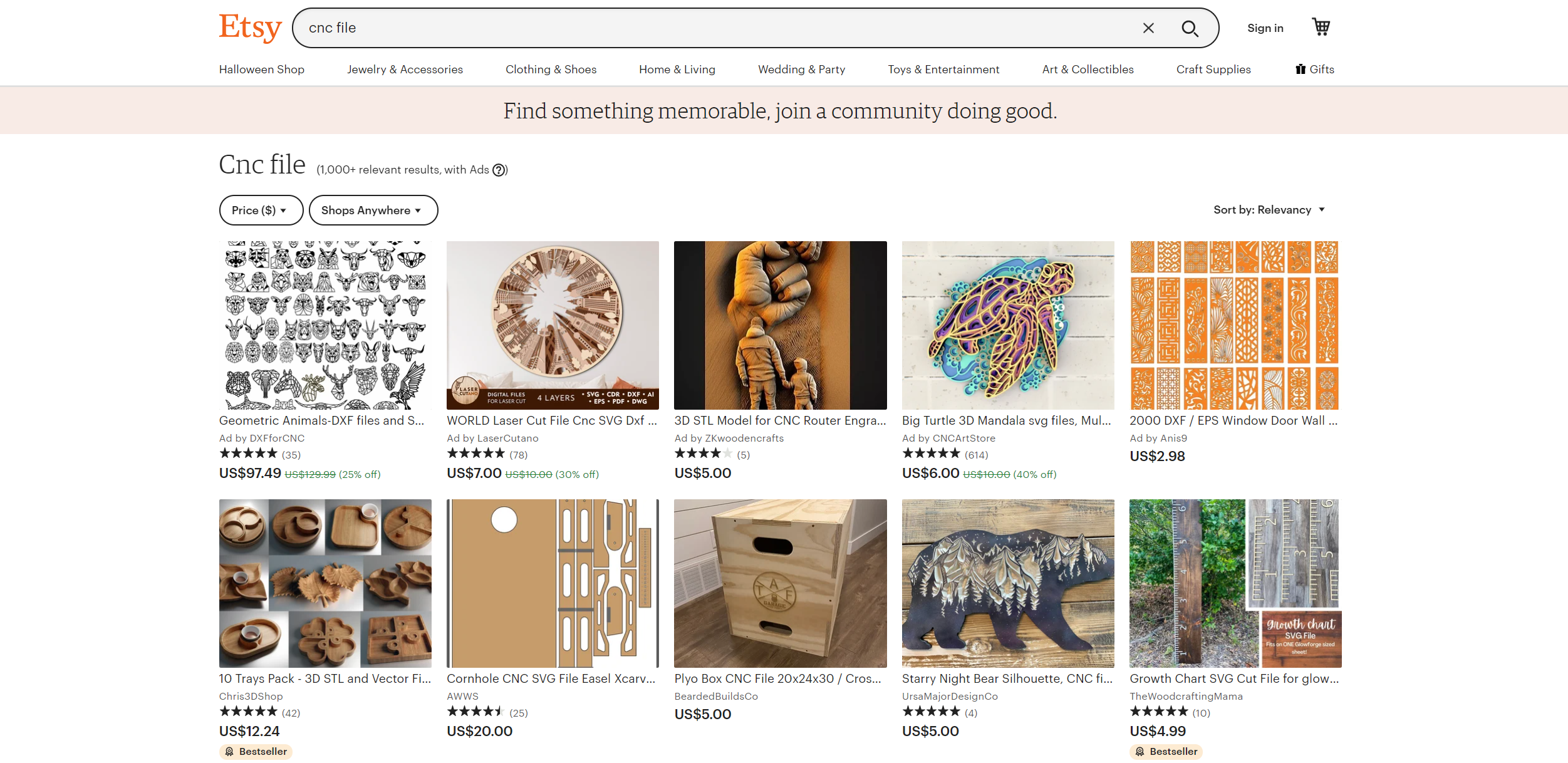 Go straight for "CNC file" in the search bar, and you'll find hundreds of 3D models for CNC machining, ranging from woodcut Star Wars calendar to world map relief. The site supports filtering by keyword match, price range, release date, etc. In addition, the search bar provides access to recently viewed items.
Craftsmanspace
Craftsmanspace comprises a wealth of free 3D models and 2D patterns. In addition to the two sections dedicated to model files, the Free projects section collects cases uploaded by users along with instructional PDF files. The site also has a Knowledge section full of information, including a comprehensive introduction to woodworking joints completed by illustrations and terminologies.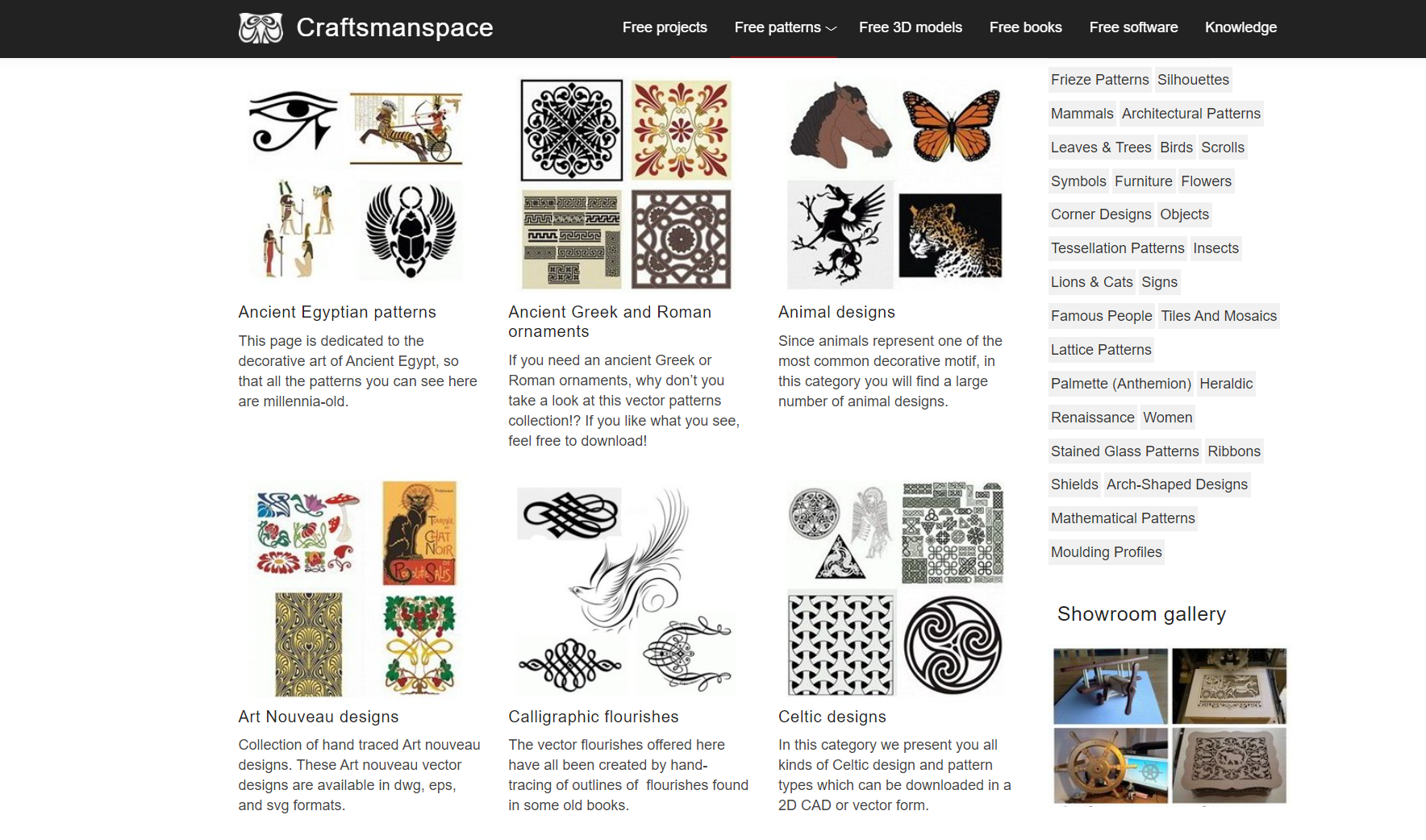 Pinterest
Pinterest is one of the largest image-sharing platforms in the world. Thanks to its volume, searching with CNC-related keywords, such as "CNC cutting design", returns a considerable number of results, including many masterpieces. Browsing through the designs can be a great source of inspiration. Note that only images of finished products are available here rather than source files for CNC machining.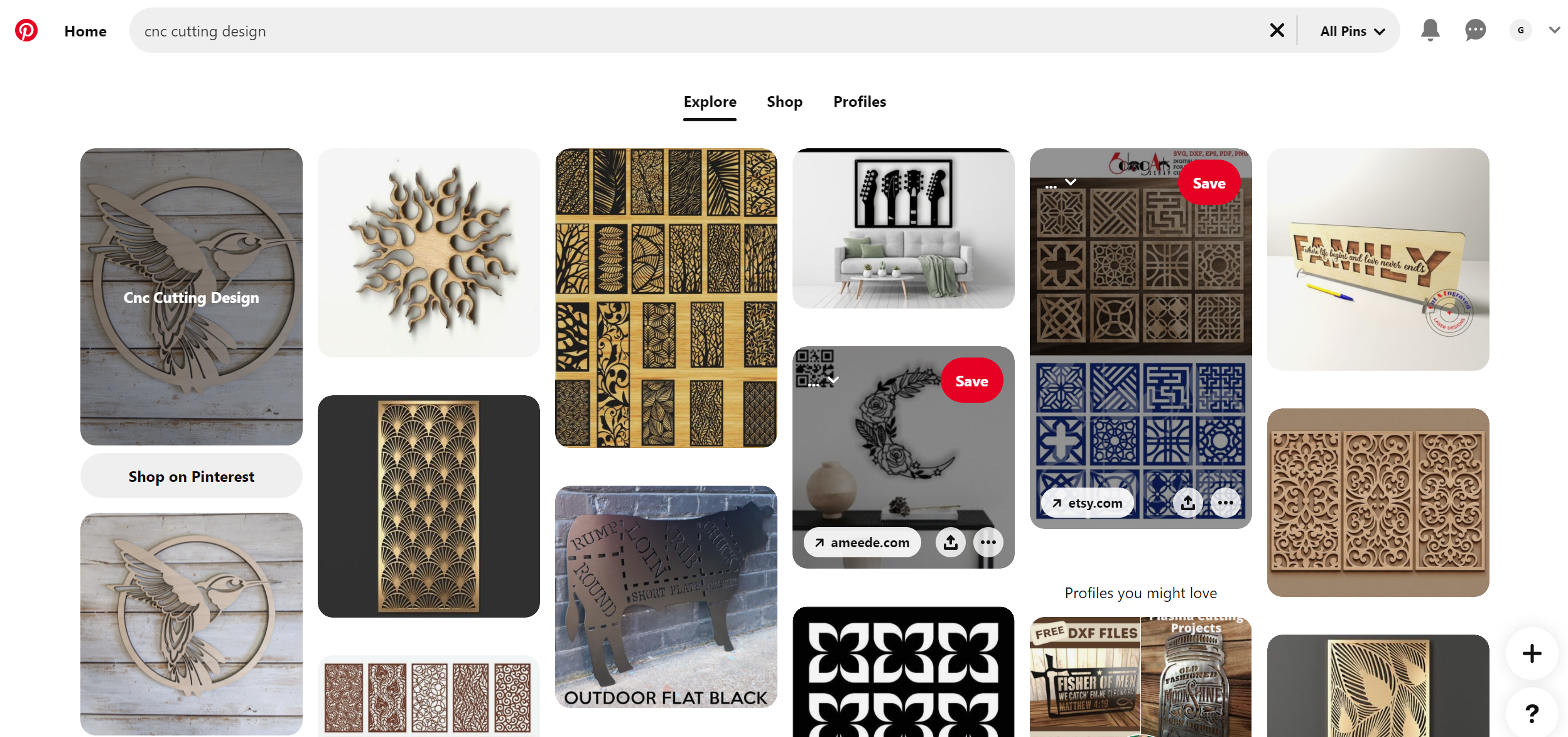 CNC Tutorial Videos
Whether it's to stimulate your own thinking with others' designs or provide model files that your CNC machine can work with, we hope the above websites have helped you in leaping from ideas to models.
Now, let's proceed to turn models into solid parts. Here are several tutorial videos on using Snapmaker CNC Modules and software, namely the Snapmaker Luban and Fusion 360.
Tutorial Videos by Snapmaker
Snapmaker 2.0: How to Use the CNC Function
The Snapmaker 2.0 comes with an ER11 collet, an MDF wasteboard, and dust-resistant Linear Modules. The CNC Module is easy to use and supports various types of materials. Check out this step-by-step tutorial on Snapmaker 2.0 CNC function and give it a shot.
How to Use CNC Function with Rotary Module
Follow along this video to see an entire 4th-axis CNC machining process with the Rotary Module. We've added new features of Origin Assistant and Bit Assistant to the Touchscreen and realized full support in Snapmaker Luban.
Intro to Snapmaker Luban 4.0 for 3-axis CNC Carving & Intro to Snapmaker Luban 4.0 for 4-axis CNC Carving
Learn how to use the 3-axis and 4-axis CNC with Snapmaker Luban 4.0 with a brand new interface, improved workflow, and some useful newly added features.
Fusion 360 CAD & CAM Tutorial for CNC Beginners [Snapmaker Academy]
Follow this video to design a 3D model in Fusion 360 and carve it out with your Snapmaker. The whole process could be much easier than you would have expected.
Tutorial Videos by Users
Snapmaker Tool Changes: Fusion 360 3D Relief Milling
Rodney Shank made this video for anyone who wants to know how to mill a relief on wood using Fusion 360 and the Snapmaker 2.0. In this video, you will be guided through the whole process step by step, including changing tools from rough to finish carving.
4 Axis CNC Machining with Snapmaker 2.0
In this video, Nikodem Bartnik tests and reviews the Rotary Module of Snapmaker 2.0. He succeeded in milling some cool stuff like SpaceX model out of epoxy tooling material and wood while failed with aluminum.
Snapmaker 2.0 - E04 - Using the CNC
In this project of Koka-Bora Creations, the author demonstrates the process of carving an SVG image onto a piece of wood relief using Snapmaker 2.0. In addition to the practical steps, he also explains how CNC relief works, the pros of working with SVG greyscale images, and some other principles.
Armed with the above resources, you're well-prepared to try it out now. Just get your Snapmaker CNC Module going and bring your creative sparks to life!
In the future, Snapmaker Academy will continue to provide you with helpful CNC resources and knowledge, so STAY TUNED!
If you are interested in other topics of 3D printing, feel free to contact us at support@snapmaker.com, or leave your message in our community.
Disclaimer
Snapmaker recommends the websites and videos to you in no particular order and for resource-sharing purposes only.
Snapmaker does not in any way endorse, control, or assume responsibility for the content, views hosted on, and services provided by these websites or individuals.