The Laser Module emits weak light and doesn't engrave at its full power, and therefore the module can't finish Auto Focus.
Possible Causes
The Enclosure's door is open during Auto Focus.
The Laser Height is too high.
The Laser Module is broken.
Actions
1. Either close the Enclosure's doors or go to Enclosure > Settings to disable the door detection feature.
2. Change the Laser height manually. On the Touchscreen, tap Settings > Laser > Adjust Laser Height. Set the Laser Height to 23.0mm and then recalibrate. If the Touchscreen keeps showing Failed, and several lines won't be burnt out, lower the laser height (to 21.5 mm or 19 mm, for example), and try again.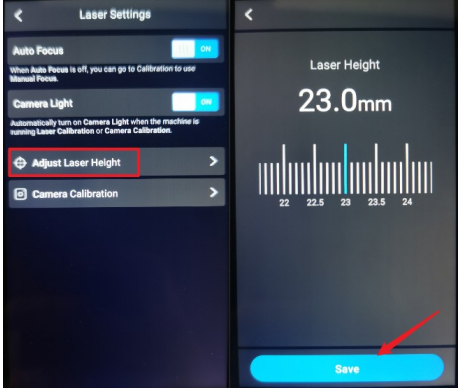 3. If the problem persists after you have tried the options above, and your built-in camera can't find the finest line while auto focusing (see picture below), then the Laser Module should be replaced.
Please contact us at support@snapmaker.com for further help.