The Snapmaker Luban only shows a blank panel after you open it.
Possible Causes
Snapmaker Luban failed to load the necessary sources.

The configuration files are damaged.



Actions
1. On the menu bar, click Window > Force Reload. Or, press Ctrl + Shift + R keys at the same time.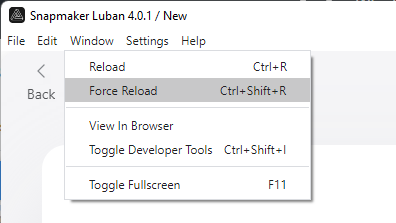 2. Download and install the latest version of Snapmaker Luban.
If you are already at the latest version, or the problem persists after upgrading to the latest version, try the following steps.
3. Reinstall Snapmaker Luban completely.
Windows:
- Uninstall Snapmaker Luban.
- Press the Windows

key and the R key at the same time to open the power user menu.
- Input the following command and click OK to open the Roaming folder.
%appdata%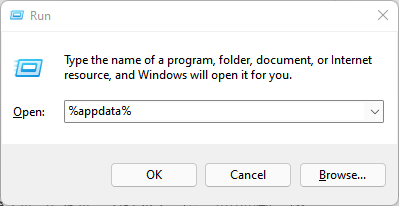 - Find the snapmaker-luban folder and delete it.

- Reinstall Snapmaker Luban.
macOS:
- Uninstall Snapmaker Luban.
- Open the Terminal.
- Input the commands below to delete the configuration files.

cd ~/Library/Application\ Support/snapmaker-luban
rm -rf Config/
- Reinstall Snapmaker Luban.
If the problem persists, please contact us at support@snapmaker.com for further assistance.