When printing, the filament does not come out of the nozzle.
Possible Causes
The nozzle is jammed.
The filament is bent or compromised.
The 3D Printing Module or Controller is broken.
Actions
1. Replace the hot end. A spare hot end is included in the box. For how to change the hot end, see this video.
2. Straighten the filament before you insert it into the Printing Module. Or try a different filament. If this does not solve the problem, then the toolhead or the Controller might be broken. Go to the next step.
3. Turn on the machine, and press to open the latch on the 3D Printing Module.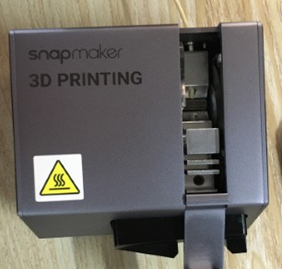 4. On the Touchscreen, go to Control > Nozzle.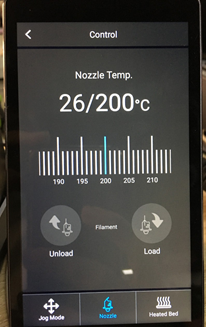 5. Wait for the nozzle to heat up until you can tap the Load or Unload button. Make sure the nozzle temperature matches the working temperature of the filament you are using (ABS generally requires a higher temperature than PLA, for example). Tap Load to see if the gear inside the 3D Printing Module rotates.
- If it does, then use a metal stick to poke the feeding hole (see picture below). Make sure the filament inside is all cleaned up. Close the latch to try again and see whether the filament can load properly.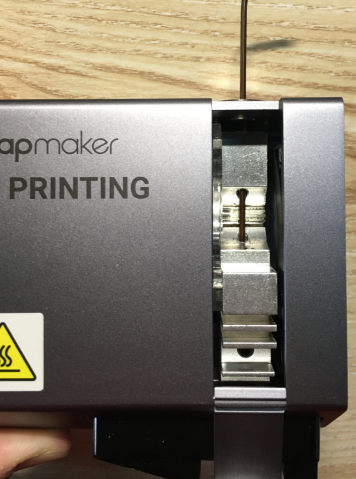 - If it doesn't, then check whether the Laser Module works.
- If the Laser Module works well, then the Printing Module itself is broken, replacing it might solve
the problem.
- If the Laser Module won't emit blue laser light (or won't stop emitting it, for that matter), then something is wrong with the Controller. It might be that you have connected the toolhead cable in the wrong direction, and the Controller and the cable are damaged as a result. Replace the Controller. Then check whether the 3D Printing Module and Laser Module work with the new Controller. If not, these two modules may also be broken and need to be replaced.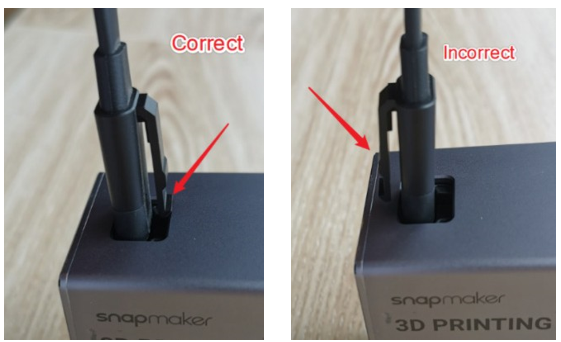 Please follow the above steps to test, and then contact support@snapmaker.com for further help.